Details

Category: Radio Archives
Published on Saturday, 08 April 2017 19:18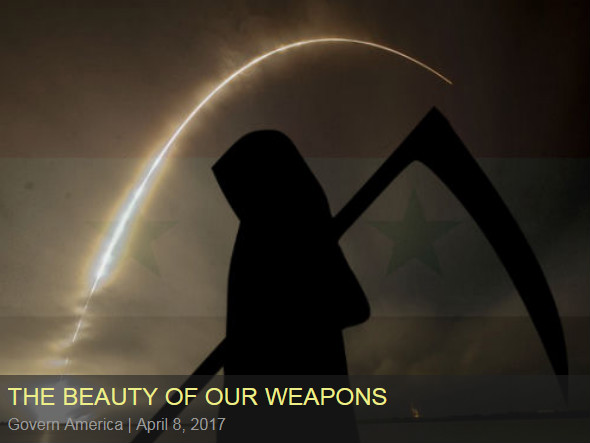 Hosts: Vicky Davis, Darren Weeks
Vicky's Websites: thetechnocratictyranny.com, channelingreality.com, tvoinews.net
U.S. bombs Syria, but why? Did Syria really use chemical weapons on civilians? What really happened? Why is the Trump administration rushing to open new war theaters? Are we headed toward another world war? Is Syria destined to be petitioned? Hillary Clinton spills the beans as to the real reason Assad has to go. UN official reveals the real purpose of the Millennium Development Goals at Davos. Susan Rice exposed in Trump surveillance flap. Also, facial recognition, Foreign Trade Zones, Prosperity States Compact, drones that plant crops, and more. Phone calls.
DIRECT DOWNLOAD LINK
(To download, right-click, choose "save file as" or "save target as")


Show Notes

Note: Original links may degrade over time. Includes a few items we didn't get to during the show.

Imaging EFX by Kenny's Voice, Licenced Under CC-BY 3.0
Select instrumental bumps copyright "Big Fish", licensed to Coalition to Govern America, LLC via Music Radio Creative.
Special thanks to Kevin MacLeod of incompetech.com and to Matt at teknoaxe.com for their outstanding work in additional bumper music selections.
VICKY'S LINKS
Simon Says (This article has the LA Times article I talked about with Common Enemy and the paper by Rand Analyst Brian Michael Jenkins —Vicky)
http://www.channelingreality.com/NWO_WTO/simon_says.htm
Prosperity States Compact — Oklahoma Legislation (pdf format)
https://governamerica.com/documents/20170408-Prosperity_States_Compact_OK_HB2132.pdf
Richard Edelman (CEO) and David Nabarro (UN) Discuss How Rebuilding Trust in Institutions
http://webtv.un.org/watch/richard-edelman-edelman-and-david-nabarro-un-on-how-do-we-rebuild-trust-world-economic-forum-2017/5287365525001
DEEP STATE WAR


Susan Rice Ordered Spy Agencies To Produce 'Detailed Spreadsheets' Involving Trump
http://dailycaller.com/2017/04/03/susan-rice-ordered-spy-agencies-to-produce-detailed-spreadsheets-involving-trump/

Cernovich Explains How He Learned About Susan Rice
http://www.zerohedge.com/news/2017-04-03/cernovich-explains-how-he-learned-about-susan-rice

Sebastian Gorka: We Have to Find out If Intelligence Was Weaponized To Use Against an Opposing Party
https://www.youtube.com/watch?v=mrJ8QdVrQRA
http://www.foxnews.com/politics/2017/04/06/gorka-unmasking-trump-associates-what-expect-in-banana-republic.html
SYRIA BOMBING
Gen. Wesley Clark: Origins of ISIS
https://www.youtube.com/watch?v=QHLqaSZPe98

The Wes Clark Seven
https://www.youtube.com/watch?v=9RC1Mepk_Sw

Danger Looms As Trump Outsources Military Decisions To Pentagon
https://shadowproof.com/2017/04/05/danger-looms-trump-outsources-military-decisions-pentagon/

The East Ghouta Chemical Attacks (2013): US-Backed False Flag? Killing Syrian Children to Justify a "Humanitarian" Military Intervention
http://www.globalresearch.ca/the-ghouta-chemical-attacks-us-backed-false-flag-killing-children-to-justify-a-humanitarian-military-intervention/5351363

U.S. Ambassador to the U.N., Nikki Haley, speech at Security Council on Alleged Syrian Gas Attack, April 5, 2017
https://www.youtube.com/watch?v=-5ALihbCVoU

UN Security Council Meeting on Syrian Strikes — April 6, 2017
https://www.youtube.com/watch?v=42DxjMqULuA

U.S. Ambassador to UN, Nikki Haley Threatens Syria
https://www.youtube.com/watch?v=5k3d8ONtgFU

PBS Newshour, April 4, 2017
https://www.youtube.com/watch?v=0gHFGXQrZNE

FLASHBACK 2013: Assad did not order Syria chemical weapons attack, says German press
https://www.theguardian.com/world/2013/sep/08/syria-chemical-weapons-not-assad-bild

Syrian rebels used Sarin nerve gas, not Assad's regime: U.N. official
http://www.washingtontimes.com/news/2013/may/6/syrian-rebels-used-sarin-nerve-gas-not-assads-regi/

No More Chemical Weapons in Syria
https://twitter.com/Miami4Trump/status/850149670353604610

Chemical Weapons 2017: What Just Happened In Syria?
http://www.activistpost.com/2017/04/chemical-weapons-2017-what-just-happened-in-syria.html

Trump on Syria's Assad: 'Something should happen'
http://www.cnn.com/2017/04/06/politics/donald-trump-syria-options/

Trump & King Abdullah of Jordan Press Conference
https://www.youtube.com/watch?v=eSUnDZjOVMI

Trump Press Conference After the U.S. Bombed Syria
https://www.youtube.com/watch?v=jtHss4mIr3o

Russian Deputy Ambassador to the UN, Vladimir Sanfronkov: U.S. Flagrant Violation of International Law; Afraid of Independent International Probe
https://news.grabien.com/story-russia-accuses-us-flagrant-violation-international-law-and-a

Putin Rebukes Netanyahu over 'groundless' accusations on suspected chemical incident in Syria
https://www.rt.com/news/383714-putin-slams-groundless-accusations-over-syria-chemical-incident/

Lyin' Brian Waxes Poetic About U.S. Bombs Flying Toward Syria
https://twitter.com/adamjohnsonNYC/status/850206506205102080

Geneva II: Negotiating at a Peace Conference for Syria
https://www.publicinternationallawandpolicygroup.org/wp-content/uploads/2013/11/PILPG-Geneva-II-Simulation-Lessons-Learned-Report-Nov-2013-.pdf

The Syrian Opposition's Very Provisional Government
http://carnegie-mec.org/2013/03/28/syrian-opposition-s-very-provisional-government-pub-51328

Anderson Cooper and Fareed Zachariah: Syria Could Be Petitioned Up
https://grabien.com/file.php?id=184077

Russian Warship on the Move: A Real or Imagined Threat?
https://www.youtube.com/watch?v=yKWThC9DsiY

Trump administration stops disclosing troop deployments in Iraq and Syria
http://www.latimes.com/politics/la-na-trump-deployment-20170330-story.html
WHISTLEBLOWERS!: 'The Greater Israel Project' Explained by Ken O'Keefe
https://www.youtube.com/watch?v=LM2Fi1rhYqc
Yinon Plan
https://en.wikipedia.org/wiki/Yinon_Plan
The Zionist State: Harbinger of WWIII
http://www.sweetliberty.org/issues/israel/zionist.html
TECHNOCRACY
Hillary Clinton at 'Women of the World' Event: Reveals Real Reason Assad Must Go
https://www.youtube.com/watch?v=aI0iLIwfa2w

DroneSeed
https://www.droneseed.co
SCOTUS
Judge Neil Gorsuch is Confirmed To Supreme Court Justice
https://www.youtube.com/watch?v=T3-m7H2h8_I
HOMELAND SECURITY
Committee to Review Law Enforcement's Policies on Facial Recognition Technology
https://oversight.house.gov/hearing/law-enforcements-use-facial-recognition-technology/
https://www.youtube.com/watch?v=JfqYMK0bEr4

US interior secretary suggests America could annex Mexican land to build Donald Trump's wall
http://www.independent.co.uk/news/world/americas/us-politics/us-interior-secretary-ryan-zinke-annex-mexican-land-build-border-wall-donald-trump-construction-a7658756.html
OTHER LINKS (Recommended by Callers, Chat, Etc.)

Embody or Perish: Unmasking the Communitarian Motto Behind Student-Centered Learning
http://invisibleserfscollar.com/embody-or-perish-unmasking-the-communitarian-motto-behind-student-centered-learning/
Communitarian Law and European Community Law : Individual & National Sovereignty versus the Collective Good
http://nord.twu.net/acl/research/commlaw.html
Cass Sunstein's Cognitive Infiltration
http://rationalwiki.org/wiki/Cognitive_infiltration
Reflexive Law: The New Legal System Driving Sustainable Development
https://www.technocracy.news/index.php/2015/10/23/reflexive-law-the-new-legal-system-driving-sustainable-development/