Sustainable Development is the goal of United Nations' Agenda 21, which has now been renamed to Agenda 2030. The UN defines sustainable development as "this generation's ability to meet its needs without compromising future generations' ability to meet their needs." Notice that the goal is only to "meet needs" and nothing extra. If and when sustainable development is fully implemented, it will destroy the economies of the world's developed countries. In fact, that is the goal. The entire world will live with technologically-enforced scarcity, coupled with surveillance and micro-managment of all of their activities. Cities and towns are being redesigned with the goal of making housing, recreation, and employment all within a short distance so that travel can be restricted. Population control is paramount to successful micro-management of the planet and its resources. Following are quotes from some high-ranking officials who are deeply involved in the construction and implementation of the Agenda 21 / Agenda 2030 plans:
"It is clear that current lifestyles and consumption patterns of the affluent middle class — involving high meat intake, consumption of large amounts of frozen and convenience foods, use of fossil fuels, appliances, home and work-place air-conditioning, and suburban housing — are not sustainable. A shift is necessary toward lifestyles less geared to environmentally damaging consumption patterns."
—Maurice Strong, chairman of 1992 United Nations Conference on Environment and Development in Rio which unveiled Agenda 21

Biodiversity map (click to enlarge), simulating areas to be "protected" from human use or habitation, as required by the United Nations' Convention on Biological Diversity, the Man and the Biosphere Programs, the Wildlands Project, and the World Heritage Program. All are part of the UN "sustainable development" program, currently being implemented in the United States. Red and yellow areas mean little to no human use will be allowed, upon full implementation.

"We have depended too long on the hope that private ownership and control (of land) would operate somehow for the benefit of society as a whole. That hope has not been realized... Private control has failed to use wisely its control of the land. We are preparing a land program not merely for the benefit of those who held title to it but for the greater welfare of all the citizens of the country."
—Rexford Tugwell, Assistant Secretary of Agriculture, January 1934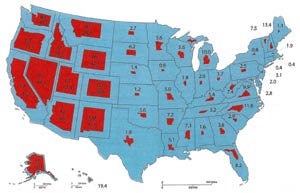 This map (click to enlarge) shows the federal government already owns huge percentages of state land, especially in the west. This land "ownership" by the federal government is unlawful under the U.S. Constitution. Article 1, Section 8 of the Constitution only permits federal authority over land when it is purchased, and only for specific purposes, such as the seat of the government "not exceeding ten miles square", and for "erection of forts, magazines, arsenals, dock-yards, and other needful buildings." No other purposes are allowed. Sorry, nature preserves, national parks, wildlife refuges, national monuments etc., are NOT enumerated and therefore are unlawful. Conservation should be a STATE — not a federal issue.
"Agenda 21 proposes an array of actions which are intended to be implemented by every person on earth... Effective execution of Agenda 21 will require a profound reorientation of all human society,unlike anything the world has ever experienced — a major shift in the priorities of both governments and individuals and an unprecedented redeployment of human and financial resources."
—Daniel Sitarz, environmental activist and attorney who was involved in the writing of Agenda 21