Details

Category: Radio Archives
Published on Saturday, 01 April 2023 22:39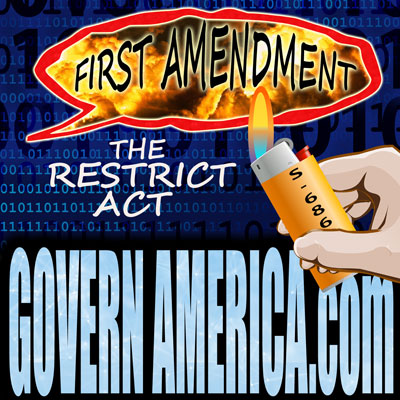 Hosts: Darren Weeks, Vicky Davis
Vicky's Websites: thetechnocratictyranny.com, channelingreality.com
Donald Trump is indicted by a grand jury as U.S. politics are taken to yet another new low. What is really behind the indictment? What do the Democrats hope to accomplish by prosecuting the former president and current frontrunner in the 2024 campaign? Radical leftists storm capitols in multiple states, but it's not an "insurrection" when they violently interrupt a proceeding. Update on political prisoners. Both parties move to ban TikTok for national security reasons, as communist Chinese flood in and buy up farm land next to U.S. military bases, fly balloons and satellites over our country, buy permanent residency through the EB-5 visa program, and set up their own police stations inside our country. What is the real reason for the pending TikTok ban? Deep dive into pending legislation in Congress that would fundamentally change communications and monetary transactions, while empowering the administrative state with dictatorial and prosecutorial powers. S. 686, the RESTRICT Act is dangerous legislation that would task the Commerce Secretary with dangerous, authoritarian powers. Also, government violations of the First Amendment are at the center of the latest Congressional hearing on the weaponization of the federal government. We have the revelations and drama.
DIRECT DOWNLOAD LINK
(To download, right-click on above link, choose "save file as" or "save target as")
Listen to "Govern America | April 1, 2023 | Democrats Fight While Republicans Talk" on Spreaker.
Show Notes

Note: Original links may degrade over time. May include items we didn't get to during the show.

CREDITS
Imaging EFX by kennysvoice, luffy, frankum, InspectorJ, burninvernon, cormi, Udopohlmann, dkmedic, guitarguy1985, blupon73, qubodup, hello_flowers, vlammenos, 2school4kool, Dragout, and jmayoff via freesound.org. Licenced Under CC-BY 3.0
Govern America jingle and other imaging by Music Radio Creative.
LIVE STREAMED & SHOW MUSIC:
» Preshow & Throughout
• Waypoint H —TeknoAXE (teknoaxe.com)
• "Blinking Lights" Govern America Jingle —Music Radio Creative
• Open music for all three hours —TeknoAXE (teknoaxe.com)

» Hour 1
• Asking Questions —Rafael Krux (freepd.com)
• Hit n Smash —Rafael Krux (freepd.com)

• Back to the Grime —TeknoAXE (teknoaxe.com )
» Hour 2
• Choir of Doom III —TeknoAXE (teknoaxe.com)
• Connection — Brian Boyko
• Feel Good Feel —Jason Shaw

• Wonder Flow —Kevin MacLeod (freepd.com)
» Hour 3
• Waypoint S —TeknoAXE (teknoaxe.com)
• Brighter Sun —Manny the Martyr
• Kings Trailer —Rafael Krux (freepd.com)
• Bed Soft Moo Ving —Big Fish, licensed to Coalition to Govern America, LLC via Music Radio Creative
NOTES FROM VICKY DAVIS
Steve Bannon's War Room #2630
https://listen.warroom.org/episode-2630-the-coverups-of-the-fbi-devaluing-your-dollar

The Marxist War on NIC (The story I wrote about accreditation issue at the college in North Idaho.)
https://thetechnocratictyranny.com/education/the-marxist-war-on-nic/
THEIR 'DEMOCRACY'
COLD OPEN: CNN announces Trump indictment
https://twitter.com/gwmonier/status/1641554417823391746

CNN Reports Trump Has Been Criminally Indicted on Whopping 34 COUNTS
https://www.mediaite.com/crime/just-in-cnn-reports-trump-has-been-criminally-indicted-on-whopping-34-counts/

FLASHBACK: Biden admitted withholding U.S. aid to pressure Ukraine to fire prosecutor investigating the Bidens' corrupt business practices
https://www.youtube.com/embed/Q0_AqpdwqK4?start=3109

McCarthy on Trump indictment: NY prosecutor 'irreparably damaged' America, Congress will intervene
https://justthenews.com/politics-policy/all-things-trump/mccarthy-trump-indictment-ny-prosecutor-irreparably-damaged

McCarthy on Trump indictment: NY prosecutor 'irreparably damaged' America, Congress will intervene
https://justthenews.com/politics-policy/all-things-trump/mccarthy-trump-indictment-ny-prosecutor-irreparably-damaged

Judge blocks Tennessee law restricting drag performances in public
https://www.reuters.com/legal/judge-blocks-tennessee-law-restricting-drag-performances-public-2023-04-01/

QAnon Shaman Jacob Chansley released from prison 14 months early, moved to halfway house
https://nypost.com/2023/03/30/qanon-shaman-jacob-chansley-released-from-prison-14-months-early/

Pro-Trump Twitter influencer found guilty of conspiracy against rights over 2016 memes
https://www.washingtonexaminer.com/policy/courts/twitter-influencer-guilty-election-interference-memes

Kristina Wong tweet, using the same joke
https://twitter.com/greg_price11/status/1641907970547097603/photo/2
FINANCIAL CRISIS
The regulated liability network
https://r3.com/blog/the-regulated-liability-network-on-corda/

Regulated Liability Network - Digital Sovereign Currency
https://regulatedliabilitynetwork.org

Regulated Liability Network White Paper
https://regulatedliabilitynetwork.org/wp-content/uploads/2022/11/The-Regulated-Liability-Network-Whitepaper.pdf

Cashless Society: Panera Bread Debuts "Frictionless" Palm Payment System
https://www.zerohedge.com/technology/cashless-society-panera-bread-debuts-frictionless-palm-payment-system

France's Macron risks his government to raise retirement age
https://apnews.com/article/france-retirement-age-strikes-macron-garbage-07455d88d10bf7ae623043e4d05090de

JANET YELLEN: The reason taxpayers don't love IRS is because IRS doesn't have enough taxpayer money
https://news.grabien.com/story-yellen-insists-the-irs-is-unpopular-because-they-are-too-small

Senator Lankford drills down on Yellen about how her policies will force smaller banks out of business
Clip: https://www.youtube.com/watch?v=Bcvl104tyRY
Full hearing: https://www.finance.senate.gov/hearings/the-presidents-fiscal-year-2024-budget-with-treasury-secretary-janet-l-yellen
TECHNOCRATIC TYRANNY
Klaus Schwab: Whoever Masters These Technologies Will Be 'Master of the World'
https://www.youtube.com/watch?v=cDybeNbFJXE&t=382s
https://blog.jacobnordangard.se/klaus-schwab-who-masters-those-technologies-in-some-way-will-be-the-master-of-the-world/

TikTok CEO Testifies at House Energy and Commerce Committee Hearing
https://www.c-span.org/video/?526609-1/tiktok-ceo-testifies-house-commerce-committee

House Hearing on the Weaponization of the Federal Government, March 30, 2023
https://www.youtube.com/watch?v=MnsEiqispp4
https://judiciary.house.gov/committee-activity/hearings/hearing-weaponization-federal-government-1

Humans will achieve immortality in eight YEARS, says former Google engineer
https://www.dailymail.co.uk/sciencetech/article-11911975/Humans-achieve-immortality-eight-YEARS-says-former-Google-engineer.html
KICKER
"Wind Power Fails On Every Count": Oxford Scientist Explains The Math
https://www.zerohedge.com/political/wind-power-fails-every-count-oxford-scientist-explains-math