Details

Category: Radio Archives
Published on Sunday, 29 August 2021 01:40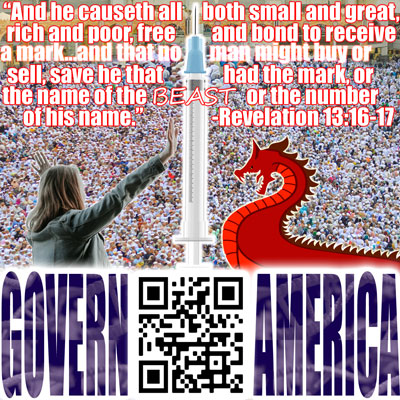 Hosts: Darren Weeks, Vicky Davis
Vicky's Websites: thetechnocratictyranny.com, channelingreality.com
White House denies that Americans are stranded in Afghanistan, as Afghan refugees are airlifted out at much higher numbers than Americans. A 2012 agreement between the U.S. and Afghanistan lays out an institutional managing-style government for that country; the globalists had big plans. Where does that agreement stand today, now that the Taliban have been reinstated? Explosions from terror attacks rock the Kabul airport. Evacuation numbers strongly indicate that Americans in Afghanistan are not a priority. Be afraid: first we had the COVID variants; now we have an ISIS variant. More details about the equipment that was gifted to the Taliban. Military often abandons equipment. States taking federal dollars, make them puppets on a string. Separate but equal branches of government doesn't mean courts can overrule all the other branches of government. Covid shots are a danger, not the covid variants, according to doctor who has a 100% success rate at curing it. Global compact for Migration, Pentagon has no idea who it has hired for security, Biden told us he was going to bring in migrants, Gab gets a letter from Congress, and more.
DIRECT DOWNLOAD LINK
(To download, right-click, choose "save file as" or "save target as")
Or use the embedded player below to listen.

Show Notes

Note: Original links ma degrade over time. May include items we didn't get to during the show.

CREDITS
Imaging EFX by kennysvoice, luffy, frankum, InspectorJ, burninvernon, cormi, Udopohlmann, dkmedic, guitarguy1985, blupon73, qubodup, hello_flowers, vlammenos, 2school4kool, Dragout, and jmayoff via freesound.org. Licenced Under CC-BY 3.0
Govern America jingle and other imaging by Music Radio Creative.
LIVE STREAMED & SHOW MUSIC:
» Preshow & Throughout
• Waypoint H —TeknoAXE (teknoaxe.com)
• "Blinking Lights" Govern America Jingle —Music Radio Creative
• Open music for all three hours —TeknoAXE (teknoaxe.com)

» Hour 1
• Asking Questions —Rafael Krux (freepd.com)
• Brittle Picks —TeknoAXE (teknoaxe.com)
• You Cant Dodge a Laser Chillstep Remix —TeknoAXE (teknoaxe.com )
» Hour 2
• The Enemy —Alexander Nakarada (freepd.com)
• Basic Wobblefest —TeknoAXE (teknoaxe.com)
• Painted Indigo —TeknoAXE (teknoaxe.com)
» Hour 3
• Brighter Sun —Manny the Martyr (freepd.com)
• Kings Trailer —Rafael Krux (freepd.com)
• Bed Soft Moo Ving —Big Fish, licensed to Coalition to Govern America, LLC via Music Radio Creative
NOTES FROM VICKY DAVIS

Here is the link to report about the FBI's Patriot Conspiracy - PATCON report. (I called it Con Plan which is a different report so this is a correction as well as a link. The second link is to the New America Foundation. I've written a little bit about it but not nearly enough.
https://thetechnocratictyranny.com/PDFS/patcon.pdf
https://www.newamerica.org/

This is the link to the Franklin County Commissioners meeting in which one Commissioner refuses to wear a mask and the county prosecutor explains why he has to wear a mask. Very interesting meeting for getting a glimpse at the bureaucratic administrative system that normally is hidden.
https://www.tri-cityherald.com/news/politics-government/article253706453.html

Here is a link to the article on Sweet Liberty concerning John Maresca's testimony on Afghanistan in 1998.
http://www.sweetliberty.org/issues/war/evidence.htm

This link is to the article I have on the Heritage Foundation. During the Reagan Administration, basically it was the Heritage Foundation that was providing policy for Reagan in the same way that the Progressive Policy Institute provided policy for the Clinton Administration.

Here are the three articles about the Reagan Administration. The part that Heritage Foundation played is in all three articles.

Libertarianism and the Rise of Technocratic Fascism
http://www.channelingreality.com/Commons/Libertarians_and_the_Rise_of_Fascism.pdf

Reason is the Reason for Treason
http://www.channelingreality.com/Commons/Reason_is_Reason_for_Treason.pdf

Logical Islands (This article is the one that talks most about Stuart Butler, enterprise zones and the Fabian Socialist.
http://www.channelingreality.com/Commons/Logical_Islands.pdf

FOREIGN POLICY
Cold Open Montage
https://news.grabien.com/story-cnns-natl-sec-analyst-afghanistan-hostage-crisis-biden-admin
https://news.grabien.com/story-nbcs-engel-us-forced-leave-talibans-clock-moment-humiliation
https://news.grabien.com/story-abcs-moran-afghanistan-biden-adrift-facts-us-has-taken-blow


Testimony By: John J. Maresca; Vice President, International Relations, UNOCAL Corporation
http://www.sweetliberty.org/issues/war/evidence.htm
Pentagon Claims Only One Explosion Occurred During Kabul Airport Attack As Death Toll Hits 170
https://www.zerohedge.com/geopolitical/pentagon-claims-only-one-explosion-occurred-outside-kabul-airport-death-toll-climbs

American Worker in Kabul: We Are in Danger! Please Help Us!
https://news.grabien.com/story-american-worker-kabul-we-are-danger-please-help-us

Press Secretary Psaki: 'It's Irresponsible to Say That Americans Are Stranded' in Afghanistan
https://news.grabien.com/story-press-sec-psaki-its-irresponsible-say-americans-are-stranded

Jim Banks on Equipment Left in Afghanistan
https://news.grabien.com/story-rep-jim-banks-taliban-now-has-more-black-hawk-helicopters-85

Taliban Take Joyride In US Black Hawk Helicopter
https://www.zerohedge.com/geopolitical/japan-plans-build-undersea-tunnel-help-dump-radioactive-water-fukushima-pacific

US military equipment dumped at the bottom of the Pacific Ocean after the Second World War because it was too expensive to bring home
https://www.dailymail.co.uk/news/article-3710334/Million-dollar-waste-Amazing-photos-reveal-expensive-military-equipment-dumped-bottom-Pacific-Ocean-Second-World-War-expensive-bring-home.html

Taliban Interview with NBC
https://www.youtube.com/watch?v=eC3KLxAtTS8

Mohammad Ashraf Ghani
https://president.gov.af/en/page/8262/8263?__cf_chl_jschl_tk__=pmd_8B5HHbqWX4qlNLxsx6XMvplkoeB_vq1hqN0ss5pofHs-1630138249-0-gqNtZGzNAmWjcnBszQiR

See Item IV - Reinforcing Regional Security and Cooperation
https://www.state.gov/wp-content/uploads/2019/02/12-704-Afghanistan-Relations.pdf

DoD really has no idea who it's hired to do private security, report finds
https://www.militarytimes.com/news/your-military/2021/07/30/dod-really-has-no-idea-who-its-hired-to-do-private-security-report-finds/

Pentagon Introduces New "Diversity Rules" Allowing "Scalp Tattoos" and Beards… What's Next, Crossdressing?
https://www.revolver.news/2021/08/pentagon-introduces-scalp-tattoos-and-diversity-beards/

HOMELAND SECURITY
Departure of Private Contractors Was a Turning Point in Afghan Military's Collapse
https://foreignpolicy.com/2021/08/16/afghanistan-military-collapse-private-contractors/

Global compact for migration
https://refugeesmigrants.un.org/migration-compact
https://www.iom.int/global-compact-migration

New York Declaration for Refugees and Migrants
https://web.archive.org/web/20170612190323/https://www.iom.int/sites/default/files/our_work/ODG/GCM/NY_Declaration.pdf

Biden: I Will Surge the Border Because That's Who We Are
https://www.youtube.com/watch?v=rYwLYMPLYbo

Biden at Violent Extremism Roundtable in 2015: Wave of Migrants Will Not Stop, Nor Should We Want It to Stop
https://www.youtube.com/watch?v=H7jms11qj-4

FBI finds scant evidence U.S. Capitol attack was coordinated
https://www.reuters.com/world/us/exclusive-fbi-finds-scant-evidence-us-capitol-attack-was-coordinated-sources-2021-08-20/

FBI January 6 Investigation: No Major Conspiracy
https://thenewamerican.com/january-6-fbi-investigation-no-major-conspiracy/

Gab Receives A Letter From Congress
https://news.gab.com/2021/08/27/gab-receives-a-letter-from-congress/

Supreme Court throws out Biden administration eviction moratorium
https://www.cnn.com/2021/08/26/politics/supreme-court-eviction-moratorium/index.html

Rochelle Walensky Goes After the Guns
https://news.grabien.com/story-cdc-director-us-gun-problem-much-bigger-we-are-hearing-about
COVID CHAOS