Details

Category: Radio Archives
Published on Saturday, 11 March 2017 19:20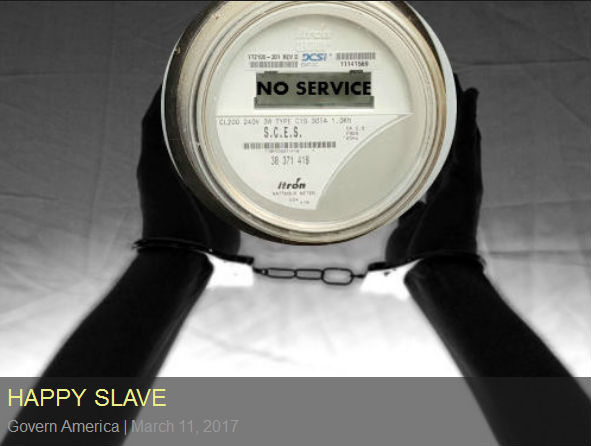 Hosts: Vicky Davis, Darren Weeks
Vicky's Websites: thetechnocratictyranny.com, channelingreality.com, tvoinews.net
As Republicans now work on the new TrumpCare bill, we ponder what "repeal and replace" actually means. Why does the new bill retain many of the provisions of the old? Medical billing fraud, based upon micromanagement and a coding system. How does The New Order of the Barbarians fit into the current picture? What happened to the "can do" spirit of the American people? The monthly jobs report is out. Is America great again? Also, government spending and attractive cheerleaders, the fear of dentists, and robots that watch "Desperate Housewives". Phone calls throughout the show.
DIRECT DOWNLOAD LINK
(To download, right-click, choose "save file as" or "save target as")


Show Notes

Note: Original links may degrade over time. Includes a few items we didn't get to during the show.

Imaging EFX by Kenny's Voice, Licenced Under CC-BY 3.0
Select instrumental bumps copyright "Big Fish", licensed to Coalition to Govern America, LLC via Music Radio Creative.
Special thanks to Kevin MacLeod of incompetech.com for his outstanding work in additional bumper music selections.
TRUMPCARE

The Nightmare of Project Destiny —Vicky Davis
http://www.channelingreality.com/Digital_Treason/project_destiny.htm

Project Destiny —Vicky Davis
http://tvoinews.net/special-reports/health-care-system/project-destiny/

Mike Lee: GOP ObamaCare Bill a 'Step in the Wrong Direction'
https://grabien.com/story.php?id=93079

Rand Paul: TrumpCare is "ObamaCare Lite"
https://grabien.com/story.php?id=93161

Rep. Steve King on Mandates Carried Over From ObamaCare Law
https://grabien.com/story.php?id=93713

Trump on ObamaCare: 'I Am Proud to Support the Replacement Plan'
https://grabien.com/story.php?id=93037

Trump threatens GOP: Back health bill or get primaried
http://www.washingtonexaminer.com/trump-threatens-gop-back-health-bill-or-get-primaried/article/2617074
SHADOW GOVERNMENT

The New Order of the Barbarians (Transcript)
http://www.sweetliberty.org/nobarbarians1.htm
The New Order of the Barbarians (Listen to the tapes on YouTube)
https://www.youtube.com/watch?v=Gjc4ywQVHEQ
FIRES

Wildfires take a toll in Colo., Kan., Okla., and Texas
http://www.thefencepost.com/news/wildfires-take-a-toll-in-colo-kan-okla-and-texas/

Kansas Rancher: 'We're kind of just estimating that we lost over 500 cows'
http://ksn.com/2017/03/08/rancher-on-fire-were-kind-of-just-estimating-that-we-lost-over-500-cows/

More than 5,000 cattle displaced as fires die down
http://amarillo.com/news/local-news/2017-03-08/more-5000-cattle-displaced-fires-die-down


ECONOMICS
MSNBC: 235K Jobs Added in February, Unemployment Rate Drops to 4.7 Percent
https://grabien.com/file.php?id=173043

Trump Trashed Jobs Numbers During Campaign Trail
https://grabien.com/file.php?id=173071

Sean Spicer: Unemployment Numbers Were Wrong When Trump was Running, but They Are Right Now
https://www.youtube.com/watch?v=XTZvppjqrX8

$611,318,000,000: Individual Income Taxes Set Record Through February
http://www.cnsnews.com/news/article/611318000000-feds-collect-record-income-taxes-through-february-still-run-348984000000

Government Waste: Funding of National Science Foundation "Studies"
https://grabien.com/file.php?id=172463

40% of households in Philadelphia can't pay their water bill
http://boingboing.net/2017/03/07/invisible-water-crisis.html


SMART METERS

WXYZ Channel 7: New bill would let customers opt out of smart meters
https://www.youtube.com/watch?v=S9e9FvAyMLM

Analog Meter Choice Bill Hearing, Feb 21, 2017
https://www.youtube.com/watch?v=xLld0AYl3YU

Michigan House Bill 4220 — Michigan Smart Meter Opt Out Bill (Good model legislation for EVERY state!)
http://www.legislature.mi.gov/(S(dwmozv4om0zja3t143cylxha))/mileg.aspx?page=getObject&objectName=2017-HB-4220

Twitter Moment: Smart Meters Hearings in Michigan (contains both Energy Committee hearings)
https://twitter.com/i/moments/839669904102019073

Smart Meters Can Overbill By Up To 582 Percent Higher Than Actual Consumption, Study Reveals
https://governamerica.com/issues/global-issues/un/agenda-21/smart-grid-smart-meters/22012-smart-meters-can-overbill-by-up-to-582-percent-higher-than-actual-consumption-study-reveals