Details

Category: Radio Archives
Published on Sunday, 16 July 2017 02:27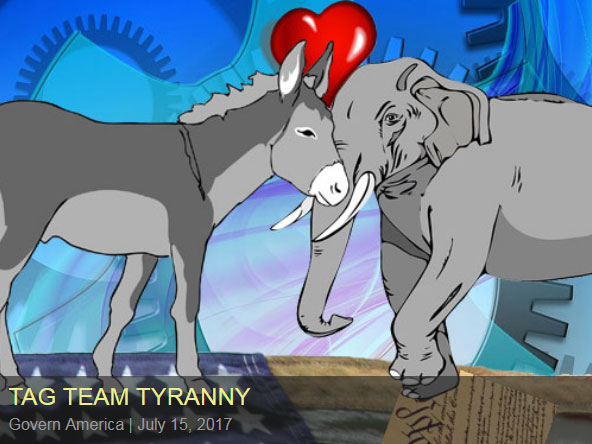 Hosts: Vicky Davis, Darren Weeks
Vicky's Websites: thetechnocratictyranny.com, channelingreality.com
We say goodbye to another friend and patriot. Uniform law being passed in the states to implement the UN agenda. We touch upon the UN Convention on the Rights of the Child and how it is being implemented in the states without Congressional ratification. International litigation working to break down national sovereignty. The GOP "healthcare" bill is still being hammered out in Congress. We connect the dots to Agenda 21, Agenda 2030, and the G20. Pandemics and disease outbreaks used to "build capacity" around the world. The war on cash continues with Visa offering incentives to merchants if they agree to quit accepting cash. Crypto malware continues to pose a threat to the world, as a new strain emerges. This happens even as more critical systems are being moved into the cyber realm. We have an update from Europe about the critical nature of the migrant crisis. Frontline pushes borderless systems and anti-encryption propaganda. Phone calls and deliberation on the best way forward.
DIRECT DOWNLOAD LINK
(To download, right-click, choose "save file as" or "save target as")


Show Notes

Note: Original links may degrade over time. May include items we didn't get to during the show.

Imaging EFX by Kenny's Voice, Licenced Under CC-BY 3.0
Select instrumental bumps copyright "Big Fish", licensed to Coalition to Govern America, LLC via Music Radio Creative.
Special thanks to Kevin MacLeod of incompetech.com and to Matt at teknoaxe.com for their outstanding work in additional bumper music selections.
TRIBUTE
Dr. Michael Coffman, RIP
http://americaplundered.blogspot.com/2017/07/my-dad-mike-coffman.html
VICKY'S NOTES
Bart Davis for U.S. Attorney? No Confidence
http://tvoinews.net/editorial/bart-davis-for-u-s-attorney-no-confidence/
WAR ON CASH
CBS This Morning Segment on Visa's War on Cash
https://www.youtube.com/watch?v=C4s5gyKMQTE
S.1241 — Combating Money Laundering, Terrorist Financing, and Counterfeiting Act of 2017
https://www.congress.gov/bill/115th-congress/senate-bill/1241/text
Single Global Currency Association
http://www.singleglobalcurrency.org/
MIGRANT CRISIS
Italy threatens to shut ports amid escalating migrant crisis
https://www.youtube.com/watch?v=tuVU-EFvBGk

Europe proves completely useless in helping Italy to solve migrant crisis - frmr FM Frattini
https://www.youtube.com/watch?v=SHhjW4JLfO0

Report Commissioned by Rex Tillerson Recommends Homeland Security Assume Control of Issuing U.S. Visas
http://www.jdsupra.com/legalnews/report-commissioned-by-rex-tillerson-35784/
GLOBAL SECURITY COOPERATION
Frontline: Terror in Europe
http://www.pbs.org/wgbh/frontline/film/terror-in-europe/
https://www.youtube.com/watch?v=NmV7XSl9_qc
G20
G20 Meeting Agrees to Globalize Education
http://freedomproject.com/the-newman-report/269-g20-meeting-agrees-to-globalize-education
G20 Leaders Declaration
https://governamerica.com/documents/20170708-G20-leaders-declaration.pdf