Details

Category: Radio Archives
Published on Saturday, 04 March 2017 18:18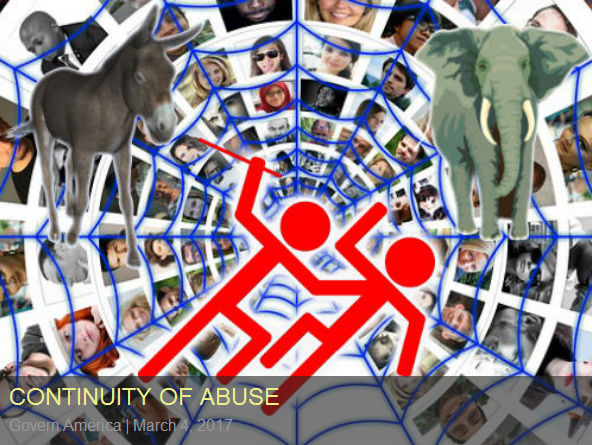 Hosts: Vicky Davis, Darren Weeks
Vicky's Websites: thetechnocratictyranny.com, channelingreality.com, tvoinews.net
The push for a Constitutional Convention is alive and well and still being pushed within the state legislatures across the country. President Trump is now alleging, on Twitter, that Obama tapped his phones. The witch hunt for Russian influence, within the Trump administration continues. If Donald Trump is sincere, why won't he go after the real criminals that are a danger to our republic? Is the minimum wage helping to fuel the robotic revolution? Will people become obsolete in an age of robotics, software, computer systems, and technology? What will happen to idle workers — what the elite planners refer to as "useless eaters"? The monetization of poor people for research. Project Destiny and the movement to redefine the role of the pharmacist. We delve into Trump's first address to a joint session of Congress. Issues discuss include deregulation and immigration reform. Is Trump headed toward giving illegal aliens amnesty? Trump's idea of "making America great" apparently comes with a huge price tag. We touch upon his infrastructure project, military funding, border wall, and the Obamacare "repeal and replace". Why are the Republicans hiding the bill in the basement of the capitol? We dissect a Ted discussion with globalist player, Yuval Harari, dive into a World Economic Forum panel discussion on the effects of globalism and what the participants see as the future, and take some phone calls.
DIRECT DOWNLOAD LINK
(To download, right-click, choose "save file as" or "save target as")


Show Notes

Note: Original links may degrade over time. Includes a few items we didn't get to during the show.

Imaging EFX by Kenny's Voice, Licenced Under CC-BY 3.0
Select instrumental bumps copyright "Big Fish", licensed to Coalition to Govern America, LLC via Music Radio Creative.
Special thanks to Kevin MacLeod of incompetech.com for his outstanding work in additional bumper music selections.
FINANCIALS

Prominent Hedge Fund Trader Jumps To His Death In Manhattan
http://www.zerohedge.com/news/2017-03-01/prominent-hedge-fund-trader-jumps-his-death-manhattan

Wendy's Installs Robots In 1,000 Stores To Counter Minimum Wage
http://thefreethoughtproject.com/robots-wendys-minimum-wage-mandates/

White House Prepares For Trade War, Warns US "Will Not Be Bound By WTO Decisions"
http://www.zerohedge.com/news/2017-03-01/white-house-prepares-trade-war-warns-us-will-not-be-bound-wto-decisions


CULTURAL MARXISM
University of Washington Tacoma Declares Proper Grammar Is Racist
http://www.breitbart.com/tech/2017/02/22/university-of-washington-declares-correct-grammar-is-racist/

Eleven U.S. states to drop suit over transgender bathroom order
http://www.reuters.com/article/us-usa-lgbt-idUSKBN16A0CK

Target Retailer Hits $15 Billion Loss Since Pro-Transgender Announcement
http://www.breitbart.com/big-government/2017/02/28/target-down-30-percent-since-transgender-boycott-began/
TRUMP SPEECH

President Donald Trump Speech to Joint Session of Congress, Tuesday, February 28, 2017
https://www.youtube.com/watch?v=oJuvNMLBcQk

Obama Laid Out Immigration Reform Plan in 2014
https://www.youtube.com/watch?v=Xdm-tyxa4eU

ABC Report: Trump Open to Giving Legal Status to Illegal Aliens
http://abcnews.go.com/Politics/trump-time-immigration-bill-open-giving-legal-status/story?id=45810351

Donald Trump Suggests He Could Grant Legal Status to Undocumented Aliens
http://www.telegraph.co.uk/news/2017/02/28/donald-trump-suggests-could-grant-legal-status-millions-undocumented/

Rand Paul Blows Whistle on GOP "ObamaCare" Dirty Trucks
https://www.youtube.com/watch?v=iWbWGeRot1c

Military Spending in the United States
https://www.nationalpriorities.org/campaigns/military-spending-united-states/
TED TALK

Nationalism vs. Globalism: The New Political Divide with Yuval Noah Harari
http://www.ted.com/talks/yuval_noah_harari_nationalism_vs_globalism_the_new_political_divide



WORLD ECONOMIC FORUM
World Economic Forum: "Governing Globalism"
https://www.youtube.com/watch?v=TL85tTijTlE