Details

Category: Radio Archives
Published on Sunday, 29 January 2017 02:58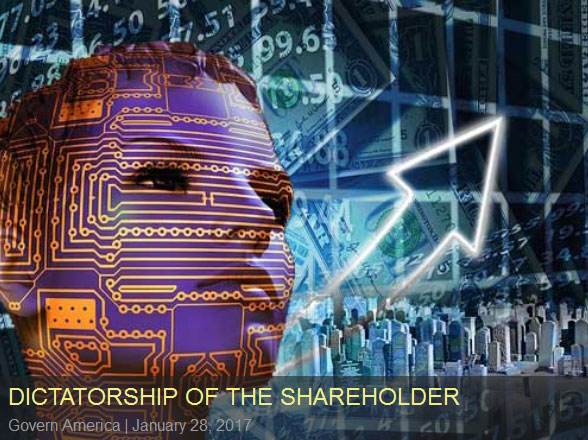 Hosts: Vicky Davis, Darren Weeks
Vicky's Websites: thetechnocratictyranny.com, channelingreality.com, tvoinews.net
College group shaming reaches a new apex. Follow-up on the Russian hacking meme with objective evidence from intelligence analysts. Will Betsy DeVos, Trump's education secretary, kill Common Core when she sat on the board of directors of an organization that pushes it? We touch upon Trump's numerous executive actions, including his order to kill the Trans-Pacific Partnership. We have reaction from Teamsters president James Hoffa. It's a war of words between Trump and Mexican officials. The president cozies up with the British prime minister. We start our series, covering audio from the World Economic Forum that reveals the way forward for Britain on Brexit, the globalists' strategy for a 21st century workforce, and take a few calls.
DIRECT DOWNLOAD LINK
(To download, right-click, choose "save file as" or "save target as")


Show Notes

Note: Original links may degrade over time. Includes a few items we didn't get to during the show.

Imaging EFX by Kenny's Voice, Licenced Under CC-BY 3.0
Select instrumental bumps copyright "Big Fish", licensed to Coalition to Govern America, LLC via Music Radio Creative.
Special thanks to Kevin MacLeod of incompetech.com for his outstanding work in additional bumper music selections.
COLLEGE CULTURAL MARXISM
Ohio State class teaches students to detect and respond to microaggressions, white privilege
http://www.thecollegefix.com/post/30923/
New Orleans student gov. leader says 'right-handed people' need to check their privilege
http://www.campusreform.org/?ID=7384
VOTE FRAUD?

Meeting on U.S.-Russia Relations and the 2016 Election
https://www.c-span.org/video/?422873-1/discussion-focuses-russias-electionyear-hacking
TRUMP'S AMERICA


Pence: 'Life is winning again in America'
http://thehill.com/policy/healthcare/316511-pence-at-anti-abortion-rally-life-is-winning-again-in-america

Trump's education secretary pick plans to get rid of Common Core standards
http://nypost.com/2016/12/11/trumps-education-secretary-pick-plans-to-get-rid-of-common-core-standards/

Betsy DeVos Was on Board of Directors of Jeb Bush's Pro-Common Core ExcelInEd Organization
http://web.archive.org/web/20160602122046/http://www.excelined.org/board-corner/board-of-directors/

Expose of Secretary of Education Betsy DeVos by Diane Kepus
http://www.newswithviews.com/Kepus/diane159.htm
2016 Donor List Includes Bill and Melinda Gates Foundation
http://www.excelined.org/about-us/meet-our-donors/

Page from ExcelInEd Website PROMOTING Common Core
http://www.excelined.org/2014/05/22/separating-common-core-myths-reality-2/

Surge in media mergers is expected under Trump's pro-business agenda
http://www.latimes.com/business/hollywood/la-fi-ct-media-mergers-charter-verizon-20170126-story.html

Mexico President Cancels U.S. Visit After Trump Wall Comments
http://www.foxbusiness.com/politics/2017/01/26/mexico-president-cancels-u-s-visit-after-trump-wall-comments.html

Trump's Executive Order Killing the Trans-Pacific Partnership
https://www.whitehouse.gov/the-press-office/2017/01/23/presidential-memorandum-regarding-withdrawal-united-states-trans-pacific
Teamster's Jimmy Hoffa Praises Trump for Killing Trans-Pacific Partnership
http://www.foxbusiness.com/features/2017/01/27/teamsters-hoffa-says-tpp-withdrawal-big-victory-for-unions.html

https://www.youtube.com/watch?v=I_9SvPST5co
Memorandum Freezing New Federal Regulations Pending Review
https://www.whitehouse.gov/the-press-office/2017/01/20/memorandum-heads-executive-departments-and-agencies

Memorandum Freezing Federal Funding for NGOs Using Money for Abortion
https://www.whitehouse.gov/the-press-office/2017/01/23/presidential-memorandum-regarding-mexico-city-policy

Memorandum Freezing Federal Hiring
https://www.whitehouse.gov/the-press-office/2017/01/23/presidential-memorandum-regarding-hiring-freeze

Memorandum Regarding Construction of the Keystone XL Pipeline
https://www.whitehouse.gov/the-press-office/2017/01/24/presidential-memorandum-regarding-construction-keystone-xl-pipeline

Memorandum Regarding Construction of the Dakota Access Pipeline
https://www.whitehouse.gov/the-press-office/2017/01/24/presidential-memorandum-regarding-construction-dakota-access-pipeline

Executive Order Expediting Environmental Reviews and Approvals For High Priority Infrastructure Projects
https://www.whitehouse.gov/the-press-office/2017/01/24/executive-order-expediting-environmental-reviews-and-approvals-high

Presidential Memorandum Regarding Construction of American Pipelines — Pushing for Use of American Steel Only
https://www.whitehouse.gov/the-press-office/2017/01/24/presidential-memorandum-regarding-construction-american-pipelines

Memorandum Streamlining Permitting and Reducing Regulatory Burdens for Domestic Manufacturing
https://www.whitehouse.gov/the-press-office/2017/01/24/presidential-memorandum-streamlining-permitting-and-reducing-regulatory

Executive Order: Enhancing Public Safety in the Interior of the United States
https://www.whitehouse.gov/the-press-office/2017/01/25/presidential-executive-order-enhancing-public-safety-interior-united

Executive Order: Border Security and Immigration Enforcement Improvements
https://www.whitehouse.gov/the-press-office/2017/01/25/executive-order-border-security-and-immigration-enforcement-improvements
Señor Scumbag, Vicente Fox, Tells President Trump to "Grow Up"
https://news.grabien.com/story-fmr-mexican-president-trump-please-grow

President Trump Press Conference with British Prime Globalist Thresa May
https://www.youtube.com/watch?v=hILiTZZjZqI


GLOBALISM & THE WORLD ECONOMIC FORUM
H.R.193 - American Sovereignty Restoration Act of 2017 (Bill to Get U.S. Out of UN)
https://www.congress.gov/bill/115th-congress/house-bill/193/text

Thresa May Speech at the World Economic Forum
https://www.youtube.com/watch?v=oE857gWr62w

John Kerry: Trump Will Only Last "a Year or Two"
https://www.youtube.com/watch?v=5vXHLEOPuTc
Britain and the EU The Way Forward (Nary Woods sound bite)
https://www.youtube.com/watch?v=qatNSkb_O3Y

Session on "Governing Globalization"
https://www.youtube.com/watch?v=TL85tTijTlE


OTHER LINKS, CONTRIBUTED BY CHAT ROOMS

Organisation for European Economic Co-operation
http://www.oecd.org/general/organisationforeuropeaneconomicco-operation.htm
For Theresa May, immigration matters more than the economy
https://www.theguardian.com/commentisfree/2017/jan/06/theresa-may-immigration-matters-economy-brexit-speech
Theresa May — Friend of Israel and the Organized Jewish Community
http://www.theoccidentalobserver.net/2016/07/theresa-may-friend-of-israel-and-the-organized-jewish-community/
The Biggest Company You've Never Heard Of
https://www.youtube.com/watch?v=szNLMtgI7hU
Spokane Police officer saves woman from burning car
http://www.krem.com/news/local/spokane-county/spokane-police-officer-saves-woman-from-burning-car/389771778