Details

Category: Radio Archives
Published on Saturday, 20 March 2021 23:52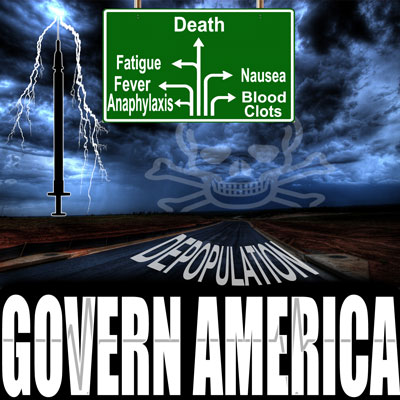 Hosts: Darren Weeks, Vicky Davis
Vicky's Websites: thetechnocratictyranny.com, channelingreality.com
FBI kicks recruiting for the American Stasi into high gear. Council on Foreign Relations celebrates 100 years of sedition. Think tank globalists argue for more civics to counter false narratives and disinformation — as they push false narratives and disinformation. "A Democracy if you can keep it?" Mandatory volunteerism and compulsory national youth service is back on the radar. Bill Gates' many projects: The man who gave you "the blue screen of death" is now building a nuclear reactor. What could go wrong? AstraZeneca/Oxford COVID vaccine pulled off the market for blood clots in many countries. The GOP quietly helps Democrats extend amnesty. RINO Mitch, Republican games, the hijacking of our language, and more.
DIRECT DOWNLOAD LINK
(To download, right-click, choose "save file as" or "save target as")
Or use the embedded player below to listen.

Show Notes

Note: Original links may degrade over time. May include items we didn't get to during the show.

CREDITS
Imaging EFX by kennysvoice, luffy, frankum, InspectorJ, burninvernon, cormi, Udopohlmann, dkmedic, guitarguy1985, blupon73, qubodup, hello_flowers, vlammenos, 2school4kool, Dragout, and jmayoff via freesound.org. Licenced Under CC-BY 3.0
Govern America jingle and other imaging by Music Radio Creative.
LIVE STREAMED & SHOW MUSIC:
• "Blinking Lights" Govern America Jingle —Music Radio Creative
• Open Music —TeknoAXE (teknoaxe.com)
• MC Ballad S Early Eighties —Frank Nora (freepd.com)
• Contingency Plans —TeknoAXE (teknoaxe.com)
• Rainy November —TeknoAXE (teknoaxe.com)
• Bed Soft Moo Ving —Big Fish, licensed to Coalition to Govern America, LLC via Music Radio Creative
• Waypoint H —TeknoAXE (teknoaxe.com)
NOTES FROM VICKY DAVIS...

Here is the article that includes Myanmar.
https://thetechnocratictyranny.com/notes/self-governing-zones/

I remembered to look for it after watching this Indian news channel about China and the Kenyan Port of Mombasa
https://www.youtube.com/watch?v=Dk4vc3DfNHY

GLOBALISM
Center for Strategic and International Studies Panel on Civics as a National Imperative
https://www.youtube.com/watch?v=t78edO68-DQ

FBI Citizens Academy
https://www.fbidcaaa.com/citizens-academy.html

Heritage Foundation Moderator Doesn't Know What Form of Government USA Has
https://www.c-span.org/video/?508324-1/american-democracy-political-climate
CLIMATE ALARMISM
NPR Interview with Bill Gates
https://the1a.org/segments/bill-gates-climate-change-nuclear/

COP25: SI calls for increased ambition and immediate action on the climate emergency
https://www.socialistinternational.org/activities/cop25-si-calls-for-increased-ambition-and-immediate-action-on-the-climate-emergency/

Tesla on Autopilot Crashes into State Police Patrol Car
https://www.wlns.com/news/tesla-on-autopilot-crashes-into-state-police-patrol-car-in-lansing/amp/

TALES FROM THE SWAMP
Dave Rubin Interview with Rand Paul
https://www.youtube.com/watch?v=RdHS52u9KpI

Mitch McConnell's Defense of the Filibuster Reveals the Establishment GOP's Scam
https://www.revolver.news/2021/03/mitch-mcconnells-defense-of-the-filibuster-reveals-the-establishment-gops-scam/

House passes bill opening door to citizenship for Dreamers and other immigrants
https://www.marketwatch.com/story/house-passes-bill-opening-door-to-citizenship-for-dreamers-and-other-immigrants-01616106628
COVID CHAOS
AstraZeneca / Oxford COVID Shot Suspended from Some Countries Due to Blood Clots
https://www.youtube.com/watch?v=Rjx27XSBTEE

European regulator greenlights AstraZeneca coronavirus vaccine after reports of blood clots
https://www.cnbc.com/2021/03/18/ema-approves-astrazeneca-covid-vaccine-after-blood-clot-reports.html

Authorities Probe Rare Blood Disorder Among Some COVID-19 Vaccine Recipients
https://governamerica.com/issues/global-issues/health-medical/vaccinations/22402-authorities-probe-rare-blood-disorder-among-some-covid-19-vaccine-recipients

60 Minutes Interview with Bill Gates
https://www.cbsnews.com/news/bill-gates-climate-change-disaster-60-minutes-2021-02-14/

Super Emissions Emitter Bill Gates Wants to Force You to Eat Fake Meat
https://pjmedia.com/culture/brucecarroll/2021/02/16/super-emissions-emitter-bill-gates-wants-to-force-you-to-eat-fake-meat-n1425982#16160973600623
FOREIGN POLICY
100 Years of Sedition: Council on Foreign Relations Celebrate Themselves
https://www.cfr.org/celebrating-a-century/

Washington Journal Interview about Promoting Democracy
https://www.c-span.org/video/?280390-5/promoting-democracy-administration

Antony Blinken Foreign Policy Speech
https://players.brightcove.net/1705665025/SkVYtBmQe_default/index.html?videoId=6236953880001