Details

Category: Radio Archives
Published on Thursday, 07 January 2021 02:02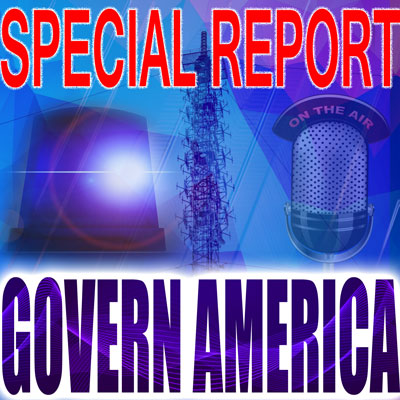 Hosts: Darren Weeks, Vicky Davis
Vicky's Websites: thetechnocratictyranny.com, channelingreality.com
Live analysis and commentary regarding the civil unrest and violence which has broke out today in the U.S. capitol, as Trump supporters rally to stop the electoral college certification. Congress delays the electoral college vote, as determined protesters are said to have "stormed" the building. One person was shot dead, in the neck, by police. But was this incident incited by Antifa infiltrators and provocateurs?
DIRECT DOWNLOAD LINK
(To download, right-click, choose "save file as" or "save target as")
Or use the embedded player below to listen.

Show Notes

Note: Original links may degrade over time. May include items we didn't get to during the show.

CREDITS
Imaging EFX by kennysvoice, luffy, frankum, InspectorJ, burninvernon, cormi, Udopohlmann, dkmedic, guitarguy1985, blupon73, qubodup, hello_flowers, vlammenos, 2school4kool, Dragout, and jmayoff via freesound.org. Licenced Under CC-BY 3.0
Govern America jingle and other imaging by Music Radio Creative.
PRE-SHOW LIVE STREAMED & SHOW MUSIC:
• "Blinking Lights" Govern America Jingle —Music Radio Creative
• Open Music —TeknoAXE (teknoaxe.com)
• Bed Soft Moo Ving —Big Fish, licensed to Coalition to Govern America, LLC via Music Radio Creative
ITEMS DISCUSSED ON THE SHOW
Patriots storm Congress, break down 4 layers of security barriers
https://www.citizenfreepress.com/breaking/watch-live-patriots-storm-congress-break-down-4-layers-of-security-barriers-senate-and-house-breached/

DON JR. "This is wrong and not who we are. Be peaceful and use your 1st Amendment rights, but don't start acting like the other side. We have a country to save and this doesn't help anyone."
https://twitter.com/DonaldJTrumpJr/status/1346898825491968000

TRUMP ADDRESSES THE VIOLENCE...
TRUMP URGES CALM (Twitter removed tweet)
https://twitter.com/realDonaldTrump/status/1346928882595885058

Trump urges calm repeatedly in tweets
https://www.citizenfreepress.com/breaking/breaking-president-trump-issues-emergency-address-tells-patriots-to-leave-dc-and-return-home-in-peace/

EYEWITNESS TO THE SHOOTING
https://twitter.com/zerosum24/status/1346922897902862336

Security Finds Pipe Bombs At RNC Headquarters In DC, Detonates In Controlled Explosion
https://thefederalist.com/2021/01/06/security-finds-pipe-bombs-at-rnc-headquarters-in-dc-detonates-in-controlled-explosion/

VP Pence Just Unfollowed President Trump on Twitter
https://www.thegatewaypundit.com/2021/01/breaking-vp-pence-just-unfollowed-president-trump-twitter/

Capitol protesters loot, vandalize Nancy Pelosi's office
https://nypost.com/2021/01/06/capitol-protesters-loot-vandalize-nancy-pelosis-office/

Police Let Protesters In?
https://gab.com/a/posts/105511168164853202
https://twitter.com/midlifewomanon1/status/1346938214867738625

Woman shot in the neck wheeled out on stretcher on live TV
https://twitter.com/midlifewomanon1/status/1346938214867738625

Facebook, YouTube, Twitter Remove Trump's Video Urging Supporters to Go Home and Be at Peace
https://www.vice.com/en/article/4adq5b/facebook-youtube-remove-trumps-video-about-storming-of-the-capitol

President Trump's Address at the Save America Rally in Washington D.C., January 6, 2021
https://youtu.be/IvJVZAxJE8Y?t=10245

Mostly-Peaceful Trump Supporters Rally at Washington Gov. Jay Inslee's mansion as protesters surround Texas, California, Michigan, Georgia, Oregon AND Kansas state capitols
https://www.dailymail.co.uk/news/article-9119837/Georgia-Secretary-State-Brad-Raffensperger-evacuated-MAGA-fans-surround-office.html

'Total submission': With mass arrests, China neutralizes Hong Kong democracy movement
https://www.greenwichtime.com/news/article/With-mass-arrests-China-neutralizes-Hong-Kong-15849564.php

Twitter censors...
https://www.citizenfreepress.com/breaking/twitter-suspends-trump/

New York Times Blames Gab for Events in Washington D.C.
https://news.gab.com/2021/01/06/gab-coms-statement-on-todays-events-in-washington-d-c/
Thinking of marching on Washington with guns? Stay home! —Darren Weeks
https://governamerica.com/opinion/darren-weeks/173-thinking-of-marching-on-washington-with-your-weapons-stay-home
FALSE FLAG CONFIRMED: "Viking" who stormed the Capitol Building previously photographed at BLM rally wearing the same outfit
https://www.naturalnews.com/2021-01-06-staged-viking-who-stormed-capitol-building-blm.html