Details

Category: Radio Archives
Published on Saturday, 07 August 2021 23:40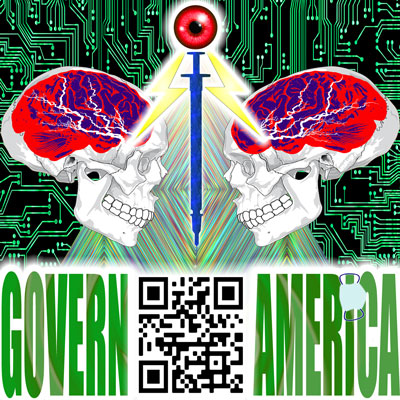 Hosts: Darren Weeks, Vicky Davis
Vicky's Websites: thetechnocratictyranny.com, channelingreality.com
Transhumanism and the new methods of mind control as revealed by an insider. Big Tech's destruction of platforms, free speech, and the free flow of information. The technological and financial deplatforming of Andrew Torba and Gab are a precursor of what may be the future for all resisters. Vicky discusses her article, "Community and Povertization of Power", and more. In the final hour, we visit with former law-enforcement officer turned attorney Lance LoRusso, author of Hunting of Men, When Cops Kill and Blue News. Lance discusses high-profile trials of officers, current efforts to defund and demoralize the police, and the effect the "defund" movement is having on officer morale. Also discussed are community policing, coddling of criminals, efforts to end incarceration, corrupt public officials, the impacts upon cities, and more.
DIRECT DOWNLOAD LINK
(To download, right-click, choose "save file as" or "save target as")
Or use the embedded player below to listen.

Show Notes

Note: Original links ma degrade over time. May include items we didn't get to during the show.

CREDITS
Imaging EFX by kennysvoice, luffy, frankum, InspectorJ, burninvernon, cormi, Udopohlmann, dkmedic, guitarguy1985, blupon73, qubodup, hello_flowers, vlammenos, 2school4kool, Dragout, and jmayoff via freesound.org. Licenced Under CC-BY 3.0
Govern America jingle and other imaging by Music Radio Creative.
LIVE STREAMED & SHOW MUSIC:
» Preshow & Throughout
• Waypoint H —TeknoAXE (teknoaxe.com)
• "Blinking Lights" Govern America Jingle —Music Radio Creative
• Open music for all three hours —TeknoAXE (teknoaxe.com)

» Hour 1
• Asking Questions —Rafael Krux (freepd.com)
• Brittle Picks —TeknoAXE (teknoaxe.com)
• You Cant Dodge a Laser Chillstep Remix —TeknoAXE (teknoaxe.com )
» Hour 2
• The Enemy —Alexander Nakarada (freepd.com)
• Basic Wobblefest —TeknoAXE (teknoaxe.com)
• Painted Indigo —TeknoAXE (teknoaxe.com)
» Hour 3
• Brighter Sun —Manny the Martyr (freepd.com)
• Kings Trailer —Rafael Krux (freepd.com)
• Bed Soft Moo Ving —Big Fish, licensed to Coalition to Govern America, LLC via Music Radio Creative
NOTES FROM VICKY DAVIS

Here is the Daniel Natal program I mentioned: Permanent Solutions to Temporary Problems
https://www.youtube.com/watch?v=YjzfSBBeBAI

Here is the President's Commission ... on the Innovation Ecosystem. This is the report that mentions Vannevar Bush
http://www.channelingreality.com/Competitiveness/innovation_ecosystem.pdf

On the 70th Anniversary of the establishment of the NSF, they did a formal report on Vannevar Bush's report including communications with congress. This version is printable and searchable.
https://www.nsf.gov/about/history/EndlessFrontier_w.pdf

This Vannevar Bush story just got a whole lot more interesting. I did a search on his report: The Endless Frontier. And I found it.
https://nsf.gov/od/lpa/nsf50/vbush1945.htm


THIRD HOUR GUEST: LANCE LORUSSO
Lance LoRusso is a former law-enforcement officer; now an attorney who represents cops. He is sought after for his expertise on legal issues surrounding America's uniformed men and women and has appeared as a guest on many news networks. Lance is the author of several books, including Hunting of Men, When Cops Kill, and Blue News.

Website: https://lancelorussobooks.com/

Books: https://lancelorussobooks.com/books/




HOMELAND SECURITY
Scanner Traffic: Illinois Governor's Mansion Robbed
https://twitter.com/TheInsiderPaper/status/1421616173104390149

Pritzker hails newly signed criminal justice reform bill as 'substantial step' in erasing 'systemic racism'
https://chicago.suntimes.com/2021/2/22/22295393/illinois-governor-jb-pritzker-criminal-justice-reform-bill-cash-bail-police-bodycams

Experts to U.S. Congress: 5G Networks "are a formidable threat to weather forecast and warning services"
https://www.activistpost.com/2021/08/experts-to-u-s-congress-5g-networks-are-a-formidable-threat-to-weather-forecast-and-warning-services.html

Just like in China, citizens in the West are now inventing codewords to bypass online censorship
https://reclaimthenet.org/inventing-codewords-to-bypass-online-censorship/

Air Force's Second Attempt To Air-Launch Hypersonic Weapon Fails
https://www.zerohedge.com/geopolitical/air-forces-second-attempt-air-launch-hypersonic-weapon-fails

Joe Biden Looks to Provide Free Lawyers at Border to Assist Hundreds of Thousands of Illegal Invaders as They Cross the Open US Southern Border
https://www.thegatewaypundit.com/2021/08/joe-biden-looks-provide-free-lawyers-border-assist-hundreds-thousands-illegal-invaders-cross-open-us-southern-border/
CIRCUMVENTING CONTROL