Details

Category: Radio Archives
Published on Saturday, 03 July 2021 22:52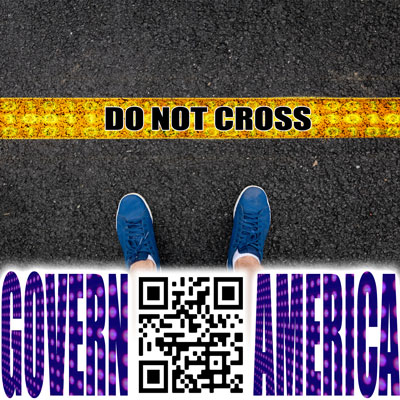 Hosts: Darren Weeks, Vicky Davis
Vicky's Websites: thetechnocratictyranny.com, channelingreality.com
Digital drivers licenses system being developed that could morph into an all-encompassing identification system, complete with health information and COVID passports. Facebook is now warning its users it may have interacted with "extremist content" and that they need to rat on people. LifeLog, Facebook, Peter Thiel, Palantir, and the CIA's In-Q-Tel. Tucker Carlson is being spied on by the NSA. Robots at Amazon are now in charge of "human resources". Finding alternatives to supporting our own demise. The U.S. government seizes domains of Iranian news service Press TV, and others. The Noose of censorship tightens; everyone, regardless of persuasion, should be pushing back against it! Decolonization, the redefining of terms, and the war on western civilization. The U.S. Navy is now being forced to participate in demoralizing "social justice" activities. The socialist roots of the U.S.-funded National Endowment for Democracy. The World Economic Forum says "you will own nothing and be happy". The systems are being built to make this "circular economy" possible. Algorithmic boots stamping on your face, fiber optic cables wrapped around your neck, and your dystopian future. Happy 4th of July!
DIRECT DOWNLOAD LINK
(To download, right-click, choose "save file as" or "save target as")
Or use the embedded player below to listen.

Show Notes

Note: Original links ma degrade over time. May include items we didn't get to during the show.

CREDITS
Imaging EFX by kennysvoice, luffy, frankum, InspectorJ, burninvernon, cormi, Udopohlmann, dkmedic, guitarguy1985, blupon73, qubodup, hello_flowers, vlammenos, 2school4kool, Dragout, and jmayoff via freesound.org. Licenced Under CC-BY 3.0
Govern America jingle and other imaging by Music Radio Creative.
LIVE STREAMED & SHOW MUSIC:
» Preshow & Throughout
• Waypoint H —TeknoAXE (teknoaxe.com)
• "Blinking Lights" Govern America Jingle —Music Radio Creative
• Open music for all three hours —TeknoAXE (teknoaxe.com)

» Hour 1
• Asking Questions —Rafael Krux (freepd.com)
• Brittle Picks —TeknoAXE (teknoaxe.com)
• You Cant Dodge a Laser Chillstep Remix —TeknoAXE (teknoaxe.com )
» Hour 2
• The Enemy —Alexander Nakarada (freepd.com)
• Basic Wobblefest —TeknoAXE (teknoaxe.com)
• Painted Indigo —TeknoAXE (teknoaxe.com)
» Hour 3
• Brighter Sun —Manny the Martyr (freepd.com)
• Kings Trailer —Rafael Krux (freepd.com)
• Bed Soft Moo Ving —Big Fish, licensed to Coalition to Govern America, LLC via Music Radio Creative
NOTES FROM VICKY DAVIS

Correction: I said the city that was eliminating single family zoning was Boise. It was Seattle.
https://www.youtube.com/watch?v=pUcZtidSf1s
TECHNOCRACY
Mobile Driver's Licenses Pave the Way for Unified Digital IDs
https://www.govtech.com/products/mobile-drivers-licenses-pave-the-way-for-unified-digital-ids

Amazon is using algorithms with little human intervention to fire Flex workers
https://arstechnica.com/tech-policy/2021/06/amazon-is-firing-flex-workers-using-algorithms-with-little-human-intervention/
Mike Lindell's MyStore: Online Marketplace
https://content.mystore.com/

NEW WORLD ORDER
Decoloniality
https://newdiscourses.com/tftw-decolonize-decoloniality/

Hoover Institution "GOODFELLOWS" on Afghanistan
https://www.youtube.com/watch?v=QvOw-4E10YM

National Endowment for Democracy (NED) President Carl Gershman Admits Being Involved with the Socialist International
https://www.youtube.com/watch?v=bqT7V4wtmZs
BUILD BACK BETTER