Details

Category: Radio Archives
Published on Sunday, 31 January 2021 00:02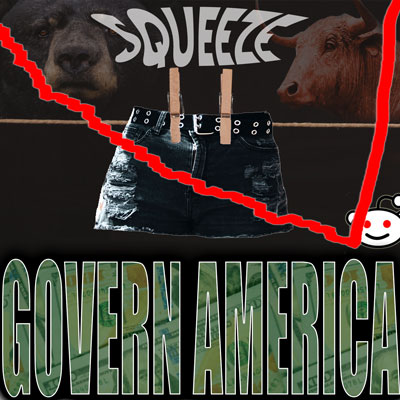 Hosts: Darren Weeks, Vicky Davis
Vicky's Websites: thetechnocratictyranny.com, channelingreality.com
Is the Gamestop short squeeze debacle the ultimate Wall Street vs. Main Street scenario? Regulatory conflicts of interest in the Treasury department. Think Tank globalists continue struggling to come to terms with populist protectionism. United Nations Secretary General Antonio Guterres calls for a new global governance at the World Economic Forum. Overview of the Homeland Security Enterprise Geospatial Concept of Operations and PPD-8. Universities as king makers and the "State of the World Forum. President Biden's executive order halting deportations is halted. If the new domestic terrorism bill was in response to the January 6th capitol mayhem, why was the same bill introduced last year? As we predicted, recent events which cast doubt about the integrity of our elections are now being used to introduce national election standards, mounting to a federal power grab. What's going on with the power grid?
DIRECT DOWNLOAD LINK
(To download, right-click, choose "save file as" or "save target as")
Or use the embedded player below to listen.

Show Notes

Note: Original links may degrade over time. May include items we didn't get to during the show.

CREDITS
Imaging EFX by kennysvoice, luffy, frankum, InspectorJ, burninvernon, cormi, Udopohlmann, dkmedic, guitarguy1985, blupon73, qubodup, hello_flowers, vlammenos, 2school4kool, Dragout, and jmayoff via freesound.org. Licenced Under CC-BY 3.0
Govern America jingle and other imaging by Music Radio Creative.
PRE-SHOW LIVE STREAMED & SHOW MUSIC:
• Drifting Away from the World —TeknoAXE (teknoaxe.com)
• Break in the Clouds —TeknoAXE (teknoaxe.com)
• Stepping Along the Sky Redux —TeknoAXE (teknoaxe.com)
• "Blinking Lights" Govern America Jingle —Music Radio Creative
• Open Music —TeknoAXE (teknoaxe.com)
• Serene Acoustic Vibes —TeknoAXE (teknoaxe.com)
• Dream Industrial —TeknoAXE (teknoaxe.com)
• Connection —Brian Boyko
• Fading Into the Dream —TeknoAXE (teknoaxe.com)
• Bastardized Once Again —TeknoAXE (teknoaxe.com)
• Victory En Route —TeknoAXE (teknoaxe.com)
• Sunrise Over Los Angeles —TeknoAXE (teknoaxe.com)
• Chillaxing with the Saxing —TeknoAXE (teknoaxe.com)
• Bed Soft Moo Ving —Big Fish, licensed to Coalition to Govern America, LLC via Music Radio Creative
• Waypoint H —TeknoAXE (teknoaxe.com)
GAMESTOP SHORTSQUEEZE
KHOU Backgrounder
https://www.khou.com/video/news/nation-world/gamestop-hedge-fund-redit-short-sale-stocks/507-459102cd-3f53-4221-a822-
c1ad355367ed

Robinhood and Citadel's relationship comes into focus as Washington vows to examine stock-market moves
https://www.washingtonpost.com/business/2021/01/29/robinhood-citadel-gamestop-reddit/

WH Ignores Question About Yellen Taking $800k In Speaking Fees From Firm That Bailed Out Loser Hedge Fund In Gamestop Affair
https://www.realclearpolitics.com/video/2021/01/28/wh_wont_say_if_janet_yellen_should_recuse_herself_after_taking_800k_in_speak
ing_fees_from_key_figure_in_gamestoprobinhood_scandal_hft_firm_citadel.html

Thread of Robinhood CEO Vlad Tenev
https://twitter.com/vladtenev/status/1354900958942175233

SEC vows to punish 'abusive activity' amid GameStop, Robinhood drama
https://www.marketwatch.com/story/sec-vows-to-punish-abusive-activity-amid-gamestop-robinhood-drama-11611932794




BUILD BACK BETTER
UN Chief Antonio Guterres at the World Economic Forum, Davos 2021
https://www.youtube.com/watch?v=3Y9l0eL5_Pw

Brookings Institute: World in danger? Europe and the world in 2021
https://www.youtube.com/watch?v=MQvoUnOfz-k

HOMESCAM INSECURITY
The Homeland Security Enterprise (HSE) Geospatial Concept of Operations (GeoCONOPS)
https://communities.geoplatform.gov/geoconops/about/

This section details the five mission areas defined in PPD-8: Prevention, Protection, Mitigation, Response, and Recovery. Each mission area sub-section encompasses multiple federal partners to accomplish their goals and discusses the geospatial requirements and specific products supporting each of their roles.
https://communities.geoplatform.gov/geoconops/ppd-8/
Rule-of-Law Judge Brings Biden's Open Borders Agenda to a Screeching Halt
https://usinc.org/rule-of-law-judge-brings-bidens-open-borders-agenda-to-a-screeching-halt/

So NOW walls work? Capitol police chief calls for PERMANENT security fencing to protect Congress
https://www.rt.com/usa/513976-capitol-permanent-security-fence/

H.R. 350: To authorize dedicated domestic terrorism offices within the Department of Homeland Security, the Department of Justice, and the Federal Bureau of Investigation to analyze and monitor domestic terrorist activity and require the Federal Government to take steps to prevent domestic terrorism.
https://www.govtrack.us/congress/bills/117/hr350
https://schneider.house.gov/sites/schneider.house.gov/files/DTPA%20of%202021.pdf

H.R.5602 - Domestic Terrorism Prevention Act of 2020 (116th Congress)
https://www.congress.gov/bill/116th-congress/house-bill/5602

S.894 - Domestic Terrorism Prevention Act of 2019
https://www.congress.gov/bill/116th-congress/senate-bill/894
135 Civil Rights Organizations Oppose a New Domestic Terrorism Charge
https://civilrights.org/resource/135-civil-rights-organizations-oppose-a-new-domestic-terrorism-charge/
New grid threat: Russia deploys 'first-strike weapon,' and China ready too
https://www.washingtonexaminer.com/washington-secrets/new-grid-threat-russia-deploys-first-strike-weapon-china-ready-too

H.R.1 - For the People Act of 2021
https://www.congress.gov/bill/117th-congress/house-bill/1/text?q=%7B"search"%3A%5B"hr1"%5D%7D&r=1&s=1

H.R.1 - For the People Act of 2019
https://www.congress.gov/bill/116th-congress/house-bill/1

Vladimir Putin warns of US 'Big Tech' dominance
https://www.dw.com/en/davos-vladimir-putin-warns-of-us-big-tech-dominance/a-56358379
ADDITIONAL MENTIONS
Unemployment: Now That's Sustainable!
https://newswithviews.com/Weeks/darren110.htm

Bank robber gave teller his actual ID during ill-fated heist: feds
https://nypost.com/2021/01/28/bank-robber-gave-teller-his-actual-id-during-heist-feds/