Details

Category: Radio Archives
Published on Saturday, 17 December 2016 20:42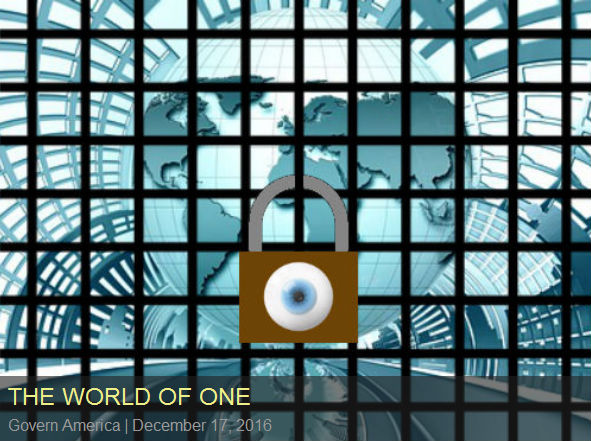 Host: Vicky Davis, Darren Weeks
Vicky's Websites: thetechnocratictyranny.com, channelingreality.com, tvoinews.net
We're down to the wire with the electors of the Electoral College voting in two days. Will they vote according to the outcome of the general election? Will they succumb to pressure, death threats, bribery, or personal preference? Russian hacker and "fake news" memes continue to be pushed in the Establishment media. We dissect a recent speech by globalist engineer Parag Khanna who argues that nations and states are obsolete and connected megacities and infrastructure is how we all should reorganize ourselves. Are we doomed to become migrants in a borderless world, devoid of national identities as connectography and diplomacity shape the globe? Also, listener phone calls and heated debate over libertarianism, anarchy, government regulation, free trade, tariffs, and globalization.
DIRECT DOWNLOAD LINK
(To download, right-click, choose "save file as" or "save target as")


Show Notes

Note: Original links may degrade over time. Includes a few items we didn't get to during the show.

Imaging EFX by Kenny's Voice, Licenced Under CC-BY 3.0
Select instrumental bumps copyright "Big Fish", licensed to Coalition to Govern America, LLC via Music Radio Creative.
Special thanks to Kevin MacLeod of incompetech.com for his outstanding work in additional bumper music selections.
NEW WORLD ORDER

Color Revolutions 101: The Making Of A Controlled Revolution
http://www.activistpost.com/2014/03/color-revolutions-101-making-of.html
TIME Magazine Openly Promotes Technocracy
https://www.technocracy.news/index.php/2016/12/08/breaking-time-magazine-openly-promotes-technocracy/
5 Radical Solutions to Fix Our Busted Government
http://time.com/4585012/technocracy-how-to-fix-government/
Smart Grid: The Rest of the Story — Vicky Davis (Vicky's research on Parag Khanna)
http://channelingreality.com/Power/Rest_of_Story_pt_7.pdf
Global Strategy — Vicky Davis
http://channelingreality.com/CORE/global_strategy.htm
Parag Khanna — "Connectography: Mapping the Future of Global Civilization"
https://www.youtube.com/watch?v=pJ-UQEmQU6Y
C-Span Washington Journal with Chris Suprun on the Planned Electoral College Vote
https://www.c-span.org/video/?419677-3/washington-journal-chris-suprun-planned-electoral-college-vote


PRESIDENTIAL TRANSITION
Recount confirms Trump's victory in Wisconsin
http://www.jsonline.com/story/news/politics/elections/2016/12/12/recount-drawing-close-wisconsin/95328294/
McFaul: 'No Question in My Mind' Putin Personally Authorized Election Hack
http://www.realclearpolitics.com/video/2016/12/15/mcfaul_no_question_in_my_mind_putin_personally_authorized_election_hack.html
Trump Urges Russia to Locate Clinton Emails
https://www.youtube.com/watch?v=Sd80XKilCTc
Wall Street Journal: Russia Tried To Hack The RNC — They Just Had Way Better Cybersecurity
http://dailycaller.com/2016/12/16/report-russia-tried-to-hack-the-rnc-they-just-had-way-better-cybersecurity-video/
Celebrities Make Appeal to Electoral College They Previously Called for Scrapping
https://news.grabien.com/story-left-wing-celebrities-create-video-calling-electoral-college
Federalist #68 — Hamilton in favor of the Electoral College
http://avalon.law.yale.edu/18th_century/fed68.asp
Anti-Federalist #72 — Against the Electoral College
http://www.thisnation.com/library/antifederalist/72.html

PSYCHOLOGICAL WARFARE

Obama Blames 'Talk Radio,' 'Domestic Propagandists' for Rise of State-Sponsored 'Fake News'
https://news.grabien.com/story-obama-blames-talk-radio-domestic-propagandists-rise-state-sp
New York Times CEO Contemplates How to Best Censor the Web
https://governamerica.com/opinion/darren-weeks/21984-new-york-times-ceo-contemplates-how-to-best-censor-the-web
RECOMMENDED LINKS

The Doctrine of the Lesser Migistrates (Recommended by Sam)
https://lessermagistrate.com
The Expatriation Dialectic —Roger Mundy
https://governamerica.com/opinion/roger-mundy/13817-the-expatriation-dialectic