Details

Category: Darren Weeks
Published on Tuesday, 29 July 2014 23:33
The other day, I was out walking the dog up our long, country driveway. I happened to pause and look around me when I noticed it. It appeared as if the leaves were beginning to change. I couldn't believe it. It wasn't even quite the end of July, and the leaves are already changing on the trees?
Thinking that it might just be that particular tree that was dying, I looked further. I saw another, then another. Most were still their summer green, with no change of colors. But it was undeniable that there were some that were beginning to turn early.
Then, later on, I went outside after work and noticed some of the trees on campus appeared to be changing as well. It was nighttime, so I chalked it up to my not being able to see very well in the dim light. I decided I would make it a point to look at the colors in the daylight.
The next day, I did just that. I was utterly floored when I came into work. It was true! So I stopped to shoot a couple of pictures.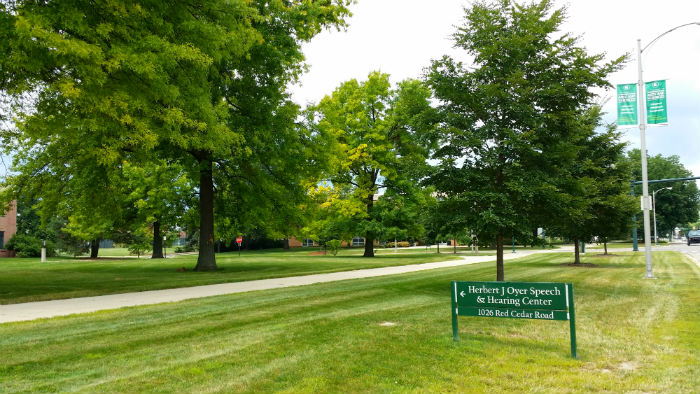 We have been having some very cool weather lately, especially at night. There are some nights that it has been getting down into the 50's. The last couple of days have felt especially Fall-like. I am getting the sense that we're in for an early winter this year.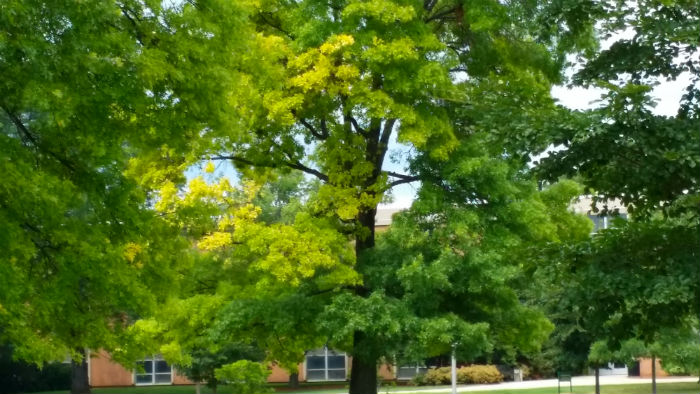 I absolutely love the Autumn. It is my favorite season, and I can't think of a more beautiful place in which to spend it than right here in Michigan. But I am certainly not ready for Winter. Last year's was so incredibly brutal. I got stranded back in January, and literally spent all night trying to get home. There were several more times that I worried that I might not make it home.
It reminded me of the winters in the old home place in Jackson, when I was growing up. We had some horrendous winters then, with the great snow of '78 being probably the worst. Many people still remember that snowstorm, which shut down absolutely everything. The climate moves in cycles, and it appears we may be returning to the cold and snow of my youth. I'm sure it won't have any impact on the "Global Warming" crowd, however. When you can argue that the heat is hiding in the ocean, there really is no hope for you. Carbon taxes and people control are just too luring a vice for the chronically insane.