Details

Category: War of Terror
Published on Tuesday, 18 October 2016 16:42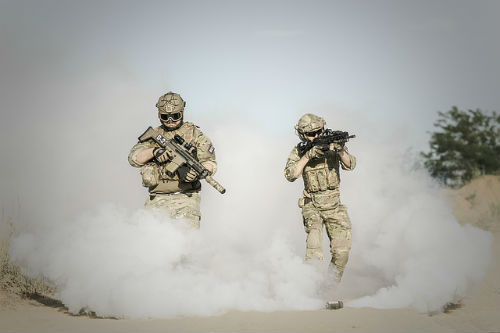 Darius Shahtahmasebi
The Anti-Media
October 18, 2016
Iraq has officially begun a U.S.-backed offensive to drive ISIS from the Iraqi city of Mosul, the terror group's last major stronghold in the country. The operation will be likely be assisted and supported by Iranian-backed militias. Turkey has also expressed a strong interest in joining the fight despite the fact Iraq told Turkey directly they do not want their assistance. In 2014, ISIS claimed Mosul, a city with a population of 1.5 million people, and has since used it to expand their caliphate. When the terror group seized this territory two years ago, the U.S. air force was nowhere to be seen, even when ISIS stole American-made military vehicles and flaunted their advances on social media.
This latest offensive is expected to spell a major defeat for ISIS in Iraq, and the implications of this could spell the end of the terror group's reign, which would undoubtedly be of great benefit to the rest of the world.

However, as it transpires, the U.S. has no immediate plans whatsoever to end ISIS. The U.S., together with Saudi Arabia, is reported to have agreed to grant free passage to thousands of Islamic State militants before the Iraqi city is overrun by Iraqi militia. According to an anonymous "military-diplomatic source," the ISIS militants will reportedly be re-deployed to Syria to fight against the Syrian government instead.

"More than 9,000 Islamic State (IS, formerly ISIS, ISIL) militants will be redeployed from Mosul to the eastern regions of Syria to carry out a major offensive operation, which involves capturing Deir ez-Zor and Palmyra," the source told state-operated Russian news agency RIA Novosti, as translated by RT.

The source also seemed to suggest the air assistance the U.S. would provide to the Iraqi offensive would be a sham, as the coalition would only strike detached, vacated, or uninhabited buildings. According to the source, Washington's strategy in moving these ISIS fighters is due to an attempt to counter Russia's advancements in Syria.
The source stated this strategy had already been tried during the liberation of the Iraqi city of Fallujah earlier this year.

An anonymous source claiming to a Russian newspaper something as conspiratorial as the U.S. directly aiding ISIS militants may seem a bit dubious, but since the offensive was launched on Monday of this week, this has been the reality on the ground.
According to Army Lieutenant General Talib Shaghati, as reported by anti-Russian newspaper, the Guardian, ISIS militants are already fleeing Mosul to Syria. This was further confirmed by the Saudi foreign minister, Adel al-Jubeir, who said that if ISIS were forced out of Mosul, they would likely go on to Syria.

Whether or not the U.S. and Saudi Arabia are helping to facilitate this move — something they would never admit to — al-Jubeir's claim that Assad will help allow ISIS grow once they enter Syrian territory should give an indication of where this conflict is headed. This claim is especially hypocritical given that pro-Assad forces who were battling ISIS were struck by the U.S. coalition in September — before ISIS launched a timely offensive.

CNN reported Monday that more than 90,000 local forces are involved in the fight for Mosul; yet U.S. airstrikes have only been reported at Bartella, 14 kilometers east of Mosul. If the U.S. military does not strike legitimate ISIS targets within Mosul, it could be the case that they are either directly or indirectly allowing their free passage to Syria, especially considering the above reports confirm they already know where the fighters are heading.

It is not uncommon for the U.S. to bolster ISIS if that support is to the detriment of the Assad regime in Syria, as was the case in previous ISIS offensives, such as Palmyra in Syria. According to the New York Times:

"Any airstrikes against Islamic State militants in and around Palmyra would probably benefit the forces of President Bashar al-Assad. So far, United States-led airstrikes in Syria have largely focused on areas far outside government control, to avoid the perception of aiding a leader whose ouster President Obama has called for."

The source's claims about the U.S.-Saudi plan to move ISIS fighters from Mosul to Syria comes just a few weeks after an al-Qaeda leader claimed the U.S. is backing them, stating, "the Americans are on our side."
Darius Shahtahmasebi writes for The Anti-Media, where this article first appeared. Used with the permission of the publisher. Check out Anti-Media Radio, which airs weeknights at 11 pm Eastern/8 pm Pacific.