Details

Category: News
Published on Wednesday, 03 April 2019 22:47
While the IDF and Israeli government have suffered few — if any — consequences for their excessive use of force against Gazan demonstrators, the Great Return March and the Israeli response has caused a notable shift in favor of Palestinian rights at the international level.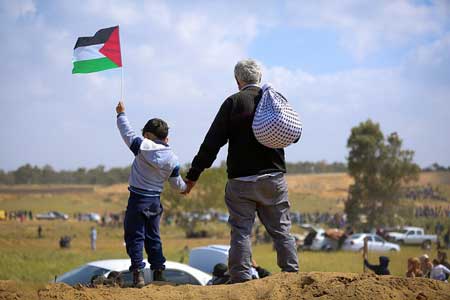 Whitney Webb
Mint Press News
April 1, 2019
GAZA CITY — During a non-violent commemoration of the beginning of the Great Return March and Palestine's Land Day, Israeli Defense Forces (IDF) snipers killed four people in Gaza, three of them minors, and shot six journalists and three medical volunteers — all of whom were clearly marked in press or medical-team vests. In addition to the four fatalities, an estimated 244 Palestinians were injured, including 56 children and 15 women, according to Gaza's Health Ministry. The Great Return March began last year on Land Day and has been mainly focused on protesting the Israeli blockade of the Gaza Strip as well as the right of return for Palestinians in exile.
Notably, the carnage occurred despite an unprecedented effort by Gazans as well as Hamas, which governs the Gaza Strip, to keep all demonstrators hundreds of meters from the border fence and prevent any behavior that could be considered violent or threatening to Israeli forces. Indeed, even the New York Times noted as much, writing that "Hamas … deployed scores of people in orange vests to keep most demonstrators at least 300 yards from the fence, the distance Israel had demanded as a buffer."
Despite claims from the IDF's Arabic-language spokesman that peaceful protests would be rewarded, Israeli forces used live ammunition with little restraint, hence the large number of casualties. No IDF personnel were killed or injured during Saturday's demonstration.
Claims have been made by Gazans that journalists and medics were intentionally targeted by IDF snipers despite their clearly marked status as members of the press / medical personnel. One prominent Gazan journalist, Walid Mahmoud, had been targeted by a sniper who had aimed at his head, and was only saved when the bullet hit his camera — then positioned in front of his face.
Israel praised the peaceful nature of Saturday's demonstrations, which Israeli Prime Minister Benjamin Netanyahu described as "calm" even though Israeli forces killed four Palestinians and injured scores more. Netanyahu asserted that the nonviolence that defined Saturday's demonstration was achieved thanks to Israel's recent movement of tanks, artillery and four brigades of soldiers to the Gaza border. Israel also recently bombed the Gaza Strip in response to an alleged rocket attack that damaged a home in central Israel but caused no deaths.
A gradual shift in global opinion
The latest massacre of Gazans — whose home, the Gaza Strip, is completely blockaded by Israel with support from Egypt — follows a year of many such massacres occurring since the beginning of the Great Return March, which began on last year's celebration of Land Day.
The main goals of the march have been to push for the end of the enclave's blockade, which has made the Strip little more than an open-air prison, and to secure the right of Palestinians to return to the Palestinian territories after their expulsion in 1948, following the creation of Israel, and in subsequent years.
Israel's current government, led by the Likud Party and Netanyahu, strongly opposes both points, particularly the latter, based on their claims that allowing Palestinians to return to their homeland presents a "demographic threat" to Israel's status as a Jewish ethno-state. Israel's ethno-state status was controversially enshrined in the "Nation State Law," passed last July.
During the first year of Great Return March demonstrations, nearly 300 Palestinians were killed by Israeli forces — including a five-year-old boy and a nine-month-old baby — and over 33,000 have been injured. Many of those injuries are victims of the alleged IDF policy "shoot to maim," which has left an entire generation of Gazans disabled for life. A recent UN inquiry found that over 80 percent of demonstrators wounded by live ammunition in the first nine months of the Great Return March had been shot in the lower limbs. Regional healthcare providers recently told Middle East Eye that "the pattern of wounds [of those injured during demonstrations] shows that Israeli soldiers are purposefully shooting to maim protesters, most of whom are in their 20s and now require long-term medical care."
While the IDF and Israeli government have suffered few — if any — consequences for their excessive use of force against Gazan demonstrators, the Great Return March and the Israeli response has caused a notable shift in favor of Palestinian rights at the international level.
For instance, in the United States, the brutality of the IDF during the marches has dramatically altered the discourse on the Israel/Palestine conflict, which has long favored the Israeli side. This has been seen in the refusal of the majority of 2020 Democratic Party presidential contenders to attend the annual American Israeli Public Affairs Committee (AIPAC) conference and in the surprising amount of support for Rep. Ilhan Omar's (D-MN) criticisms of the pro-Israel lobby.
Thus, while brutality continues to rain down on the Gaza Strip, likely inflamed by Netanyahu's eagerness to appear "strong" in the lead-up to upcoming Israeli elections , the continued nonviolence shown by the vast majority of Gazan demonstrators — as well as the nonviolence professed by the Boycott, Divest, Sanctions (BDS) movement — have been instrumental in persuading people around the world to support Palestinian rights and to scrutinize and re-evaluate the war crimes and numerous violations of international law regularly committed by Israel's government.
On a separate, but related note, Netanyahu's insistence that mass shooting on Saturday was "calm" reflects an effort on his part to claim that Saturday's events represent progress, which serves his political ambitions prior to Israel's upcoming elections. Claiming responsibility for Palestinian nonviolence — with the inconvenient fact that the protesters were shot anyway apparently redacted — shows that Netanyahu's opinion of progress in Israel/Gaza relations is the brutal repression of Palestinians regardless of whether they practice nonviolence or violence in their resistance to Israel's long-standing blockade of the enclave.
Top Photo | Protesters wave Palestinian flags as others fly kites during a demonstration near the Gaza Strip border with Israel, in eastern Gaza City, Thursday, March 29, 2018. (AP Photo/ Khalil Hamra)
Whitney Webb is a MintPress News journalist based in Chile. She has contributed to several independent media outlets including Global Research, EcoWatch, the Ron Paul Institute and 21st Century Wire, among others. She has made several radio and television appearances and is the 2019 winner of the Serena Shim Award for Uncompromised Integrity in Journalism. This article was first published by Mint Press News and was used with permission.