Details

Category: Gun Control & Disarmament
Published on Friday, 04 January 2019 22:09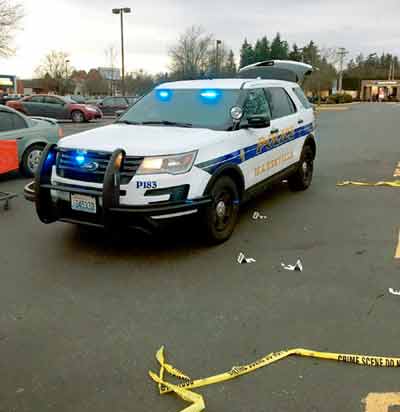 Coalition to Govern America
January 4, 2019
It was Christmas eve, but instead of sleigh bells, a couple of shoplifters heard the sound of gunfire, as six armed shoppers opened fire on a couple of shoplifters, who stole four nail guns from a farm supply store.
Via KOMO:
Police say two people stole power tools from Coastal Farm and Ranch store on State Avenue late Saturday afternoon. When they got to their car in the parking lot, a shopper tried to confront them and showed them his gun. The accused shoplifters struck that man with their car as they took off, according to police.

That's when two more shoppers carrying guns confronted the thieves. The armed citizens fired several shots, taking out two tires on the getaway car.
One customer was standing in front of the car, yelling at the alleged thieves to get out.

"He won't shoot, run him over," one of the suspects reportedly said. The driver pulled forward, causing the man confronting him to land on the hood, court papers say.

Another customer shot at the driver's side front tire, according to documents. A third fired twice at the rear tire.

Someone shot at the car one more time as it left the parking lot, records show.

An employee saw the car leaving and drove after the theft suspects. He said he saw one of the men lean out the passenger window and hold up what looked like a gun. The employee stopped chasing the men and went back to the store.

Marysville police found the theft suspects' car unoccupied about three blocks away, with two flat tires and the tools inside. Both men were apprehended after a search.
While we don't recommend shooting in public, unless it is in self-defense, it is nice to know that no one was injured, and the thieves are in police custody.