Details

Category: Police State
Published on Sunday, 28 June 2020 21:24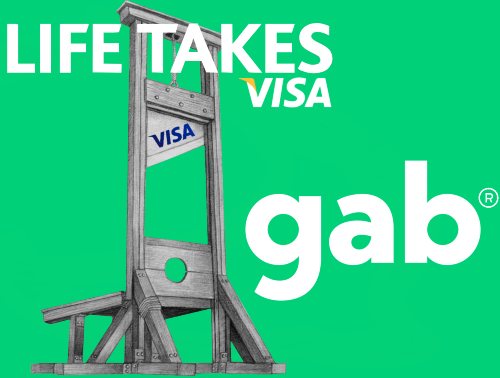 Andrew Torba, the founder and CEO of the free speech social media platform, Gab, sent a letter on June 26, 2020 to his mailing list. In the letter, Torba detailed how he and his family are being persecuted by a payment processor for doing nothing but running a free speech website. We are reprinting that letter here as we believe it describes a shift in power toward totalitarian corporatism.
---
Gab
Andrew Torba
June 26, 2020
As many of you already know we learned last week that
Visa blacklisted Gab
and we are now unable to process credit and debit card transactions. We learned more information this week and I think it's important that I share it as a warning for others.
It's not just Gab that is blacklisted. It's also my family.
In China there is something called the Social Credit System, which was developed by the Communist Chinese Party as a "national reputation system." This system tracks the "trustworthiness" of individuals, businesses, and organizations. "Trustworthiness" here means total and complete submission to the Chinese Communist Party. If the Communist Party deems you to be untrustworthy, you are denied access to plane tickets, train tickets, opening and operating businesses, and more.
To most Americans this sounds horrifying, and it is. I now know from first-hand experience because this social credit system exists in the United States. While it may not be sanctioned by the United States government, it most certainly has been deployed by US corporations who today have in many ways more power, data, and control over our lives than our government does. Many of these corporations also happen to be endorsing and raising money for communist organizations, revolutionaries, and the domestic terrorists burning down our cities.
We were told this week that not only is Gab blacklisted by Visa as a business, but my personal name, phone number, address, and more are all also blacklisted by Visa. If I wanted to leave Gab tomorrow (something that isn't going to happen) and start a lemonade stand I wouldn't be able to obtain merchant processing for it.
Simply because my name is Andrew Torba.
If my wife wants to start a business she won't be able to obtain merchant processing because she lives at the same address as me and would be flagged by Visa.
This is obviously very concerning. We have done nothing wrong. Gab is and always has been a legally operated business. We sell hats, shirts, and a software subscription service that unlocks new features on Gab. My personal credit score is in the 800's. I pay my bills. I have a wife and daughter to provide for, yet we are all being punished and defamed because someone at Visa has it out for me.
We were told that Visa has someone camping on our website watching our payment processing. As soon as we get a new processor up they find out who it is on their end and contact them. They tell the processor that Gab is flagged for "illegal activity" and if they do not stop processing payments for us they will be heavily fined.
When the processor inquires about this alleged "illegal activity," Visa tells them that Gab has been flagged for "hate speech." "Hate speech," is of course not illegal in the United States of America and is protected by the First Amendment. As
I have written
, it's not real and I refuse to acknowledge it as term. Visa doesn't agree with me.
The reason I share all of this is that I hope it serves as a wakeup call and as a warning. If they can do this to me, they can do it to you and they likely will.
Christians need to be
especially concerned and aware of this
. The Communist revolutionaries taking over the United States are coming for us all. It's only a matter of time before the Bible is labeled as "hate speech" and churches start to experience what I am going through right now.
Andrew Torba
CEO, Gab.com
June 26th, 2020
Gab Has Been Blacklisted By Visa
Gab has been blacklisted by Visa for "promoting hate speech."

Gab does no such thing. This is like saying Google "promotes hate speech" because you can search racial slurs on their search engine and get results. Gab is a neutral technology platform. We follow the law, have an excellent relationship with law enforcement, and have a clear set of community guidelines that detail what is allowed on our website and what is not.

The bottom line is that Gab is not controlled and cannot be controlled by the oligarchic elite who are working to overthrow our counties and infect them with communism. It's no coincidence that Katie Hopkins was banned from Twitter today, Zerohedge and The Federalist had their comment sections censored by Google, and VDARE is getting banned by their domain registrar. All of this is coordinated. It's targeted.

Where is the President? Where is Congress?

Tweeting and "monitoring the situation." That's where.

No one is coming to save us and no one is coming to save you.

It's on all of us to save ourselves.

So we have lost credit card processing yet again after a year and a half of working to get it restored. We have been under attack at the payment processing level all month long. In early June we were abruptly banned by two separate underwriting banks without cause.
"Risk related reasons" is the excuse. These banks have no problem processing payments for pornography websites which are loaded with child exploitation, human trafficking, and more. They have no problem processing payments for cannabis, which is still illegal at the federal level. They have no problems processing payments for gambling websites.

Gab sells t-shirts, hats, and a software subscription service.

I guess that's "high risk" to these people.

We still accept payments via echeck, check by mail, and bitcoin. If you'd like to support us through any of those options you can do so by upgrading to GabPRO here.

You can also send a check or money order donation/payment for GabPRO:
Gab AI Inc
PO Box 441
Clarks Summit, PA
18411

We will not go gently into the good night. We will rage, rage, against the dying of the light.


Ephesians 6:12

12 For we wrestle not against flesh and blood, but against principalities, against powers, against the rulers of the darkness of this world, against spiritual wickedness in high places.