Details

Category: Paul Craig Roberts
Published on Saturday, 13 July 2019 17:41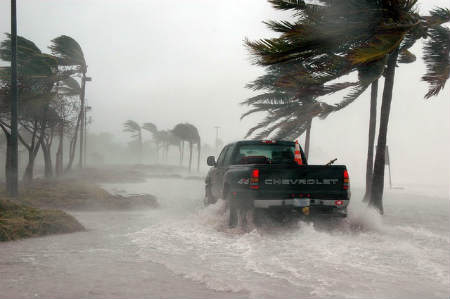 Paul Craig Roberts
Institute for Political Economy
July 13, 2019
What Hurricane Barry tells us as it floods an already flooded New Orleans is that the "terrorist threat" that the US allegedly faces is a hoax.
What do I mean? Think about it this way. Terrorists, if such exist, have had ample warning about New Orleans' precarious position with the swollen Mississipi river in flood stage for the longest period in recorded history. What would terrorists be doing as I write? They woud be setting off explosives to breach one of the levees and watch the Mississippi river wash New Orleans away.
This is simple child's play for terrorists who, if you believe the US government, are so clever that they outwitted airport security four times in one hour on the same morning, hijacked 4 airliners, and brought down three World Trade Center skyscrapers and part of the Pentagon.
Indeed, there are any number of dams and levees that could easily be breached with chaotic results. The same for power sub-stations and cell phone towers. "Airport security" is a pointless exercise as terrorists can kill far more people by exploding their bombs in the crowds waiting to clear TSA than they can by blowing up an airliner. The easiest way for terrorists to cause mayhem is to empty boxes of roofing nails during rush hour on all major arteries in all major American cities. It would take weeks to clear the roads of the hundreds of thousands of cars. Life in the major cities would come to a standstill. People couldn't get to work, school, or hospital. Food deliveries could not be made. Those without provisions would loose a lot of weight and some would starve to death.
All of these acts are far easier and far less complicated to arrange than the 9/11 attack. Yet not a single one of them has occurred. Other than TSA terrorizing US citizens, what terrorist acts have we experienced? School shootings, assuming they are real and not stage productions, are not done by Muslim terrorists.
The absence of Muslim terrorist attacks in America is puzzling in view of the mass slaughter, maiming, orphaning, and dislocation of millions of Muslims by the US government for almost two decades. This absence of retribution must seem strange to Americans who are accustomed to extreme demonization of Muslims.
The war on terror is a hoax used (1) to justify Washington's destruction of 7 countries in whole or part during the first two decades of the 21st century, (2) to create a domestic police state and achieve the acquiescence by US citizens in the loss of their Constitutional protections, and (3) to create fortunes for favored operatives of the police state, such as Michael Chertoff (https://en.wikipedia.org/wiki/Michael_Chertoff ), the director of Homeland Security who became rich selling scanning machines to TSA.
Dr. Paul Craig Roberts (Website: PaulCraigRoberts.org) was appointed by President Ronald Reagan to Assistant Secretary of the Treasury for Economic Policy and confirmed to the office by the U.S. Senate. He also served as consultant to the U.S. Department of Defense and the U.S. Department of Commerce. Dr. Roberts was associate editor and columnist for The Wall Street Journal and columnist for Business Week and the Scripps Howard News Service. He was a nationally syndicated columnist for Creators Syndicate in Los Angeles. In 1992 he received the Warren Brookes Award for Excellence in Journalism. In 1993 the Forbes Media Guide ranked him as one of the top seven journalists in the United States. He has held academic appointments at Virginia Tech, Tulane University, University of New Mexico, Stanford University where he was Senior Research Fellow in the Hoover Institution, George Mason University where he had a joint appointment as professor of economics and professor of business administration, and Georgetown University where he held the William E. Simon Chair in Political Economy in the Center for Strategic and International Studies. He is one of the most influential minds in the truth media today.