Details

Category: RussiaGate
Published on Sunday, 02 December 2018 18:37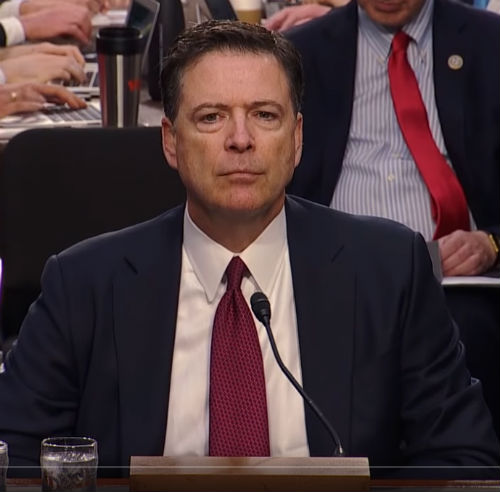 Lee Stranahan
December 2, 2018
Now that Congress has negotiated a deal for James Comey to testify, they need to buckle down and get ready to ask a hostile witness questions about a shocking, but undisputed, story.
In August, 2016 the government of Ukraine, who were working directly with James Comey's FBI, released unsubstantiated accusations against Trump campaign manager Paul Manafort that led to his resignation five days later. Further, these allegations were made by a Ukrainian political operative working with two of Hillary Clinton's billionaire financial backers.
This isn't conspiracy theory or wild accusation. It's the truth and it's been hiding in plain sight since August, 2016. It was reported in the New York Times, albeit with significant omissions.
In the time since the story was reported, however, we've learned a lot about James Comey and the toxic, politically motivated environment he oversaw at the Federal Bureau of investigation and that's why it's incumbent on Congress to get to the bottom of the Ukrainian collusion election interference.
The basic facts were reported in the New York Times articled titled Secret Ledger in Ukraine Lists Cash for Donald Trump's Campaign Chief on August 14, 2016. It smeared Trump's campaign chairman at the time, Paul Manafort. The article admits to the underlying election interference by a foreign government, pointing out that the accusations came from Ukrainian run organization called the National Anti-Corruption Bureau of Ukraine aka NABU
Handwritten ledgers show $12.7 million in undisclosed cash payments designated for Mr. Manafort from Mr. Yanukovych's pro-Russian political party from 2007 to 2012, according to Ukraine's newly formed National Anti-Corruption Bureau.
NABU was set up, largely by the United States, after the Obama administration orchestrated an overthrow of the Ukrainian government in 2014. Comey's F.B.I worked so closely with NABU that they had an office there.
In a press release on their website titled NABU will continue cooperation with the FBI for two more years, NABU says that a representative of James Comey's FBI had an office at headquarters in Kyiv and worked on international requests.
Since February 2016, the representative of the FBI has a permanent Office in the NABU and jointly with the NABU Detectives works on the execution of international requests and controls their passage through the competent authorities of the United States of America.
This wasn't reported in the New York Times story of August 14, 2016. That article soft-pedaled the relationship, and doesn't note the permanent office. Instead it mentions that NABU's had an "evidence-sharing agreement with the F.B.I."
In case there's any doubt about the Ukraine / FBI connection to smearing Paul Manafort, NABU actually released a statement on their official website about the so-called Black Ledger on August 18, 2016.
Manafort resigned the next day.
This is shocking foreign interference in the 2016 election, done by an agency that the United States helped set up, fund and that James Comey's FBI literally had an office in. It happened just months after top FBI officials met with top officials from NABU in Washington DC, in February 2016.
James Comey needs to be asked about that meeting and Congress needs to demand any and all documents related to the FBI's contacts with NABU during the election.
This scandal couldn't have happened without a willing media backing the attempt to take down Trump, however, and the New York Times is a major culprit in this story because they hid the background of the operative involved.
We know that the main spokesman for these accusations was Serhiy Leshchenko, a Ukrainian politician and journalist who works closely with both top Hillary Clinton donors George Soros and Victor Pinchuk, as well as to the US Embassy in Kyiv. As the New York Times wrote:
The accounting records surfaced this year, when Serhiy A. Leshchenko, a member of Parliament who said he had received a partial copy from a source he did not identify, published line items covering six months of outlays in 2012 totaling $66 million…

James Comey should be asked about this source that Leshchenko would not identify. Was the source someone connected to US government, either the State Department or the Department of Justice?
The New York Times should also explain why they didn't mention that Leshchenko had direct connections to two of Hillary Clinton biggest financial backers. Victor Pinchuk, the largest donor to the Clinton Foundation at a staggering $8.6 million also happened to have paid for Leshchenko's expenses to go to international conferences. George Soros, who also founded the International Renaissance Foundation that worked closely with Hillary Clinton's State Department in Ukraine, also contributed at least $8 million to Hillary affiliated super PACs in the 2016 campaign cycle.
The danger for Congress and the country is that Comey will either lie or give cagey non-answers. He's done it before, back in 2017, when he would not comment on whether the FBI was coordinating with Ukraine. It's worth noting that just hours after he gave that non-testimony, none other than Serhiy Leshchenko suddenly made new unsubstantiated accusations against Manafort.
The Democrats, the F.B.I, the State Department and the media have done their level best to try to distract from the real foreign collusion and interference in the 2016 election from Ukraine. They have ignored and obfuscated the 2017 Politico story Ukrainian efforts to sabotage Trump backfire, detailing how DNC operative Alexander Chalupa worked with the Ukrainian Ambassador Chaly to try to get dirt on Trump and Manafort. Andrii Telizhenko, the whistleblower from that Politico article, was forced to flee Ukraine with his family, but is doing interviews and is more than willing to talk to Congress.
Congress has a chance to ask Comey the hard questions and to interview Telizhenko. Let's hope they take it.
Lee Stranahan (Stranahan.com) is an American investigative journalist who has written for Huffington Post and Breitbart. He now owns and runs Citizen Journalism School and Populist.TV. In addition to those ventures, Lee also hosts a radio show called Fault Lines with Nixon and Stranahan.