Details

Category: Radio Archives
Published on Saturday, 12 September 2020 22:38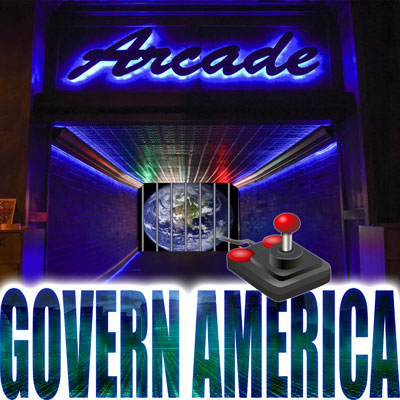 Hosts: Darren Weeks, Vicky Davis
Vicky's Websites: thetechnocratictyranny.com, channelingreality.com
Technocrats engineering the Fourth Industrial Revolution are transitioning the world into a artificial reality where machines are in control, currencies are digital, property is virtualized, and wealth is only generated within the confines of their game. Meanwhile, in the real world, everyone gets tracked, traced, manipulated, and poverty increases for all except those doing the programming. Deep dive on Incite Seminars and their excellent presentation on Life in a post-pandemic video game. In the final hour, John Perazzo of DiscoverTheNetworks.org joins us to talk about the Marxist orgins of Black Lives Matter. John is a contributing writer to Front Page Magazine and works for the David Horowitz Freedom Center. We discussed his article, Black Lives Matter: Marxist Hate Dressed Up As Racial Justice and touched upon the roots of the BLM organization, their funding, and their detrimental impact upon society.
DIRECT DOWNLOAD LINK
(To download, right-click, choose "save file as" or "save target as")
Or use the embedded player below to listen.

Show Notes

Note: Original links may degrade over time. May include items we didn't get to during the show.

CREDITS
Imaging EFX by kennysvoice, luffy, frankum, InspectorJ, burninvernon, cormi, Udopohlmann, dkmedic, guitarguy1985, blupon73, qubodup, hello_flowers, vlammenos, 2school4kool, Dragout, and jmayoff via freesound.org. Licenced Under CC-BY 3.0
Govern America jingle and other imaging by Music Radio Creative. 
PRE-SHOW LIVE STREAMED & SHOW MUSIC:

• Drifting Away from the World —TeknoAXE (teknoaxe.com)
• Break in the Clouds —TeknoAXE (teknoaxe.com)
• Stepping Along the Sky Redux —TeknoAXE (teknoaxe.com)
• "Blinking Lights" Govern America Jingle —Music Radio Creative
• Open Music —TeknoAXE (teknoaxe.com)
• Serene Acoustic Vibes  —TeknoAXE (teknoaxe.com)
• Dream Industrial —TeknoAXE (teknoaxe.com)
• Connection —Brian Boyko
• Fading Into the Dream —TeknoAXE (teknoaxe.com)
• Bastardized Once Again —TeknoAXE (teknoaxe.com)
• Victory En Route —TeknoAXE (teknoaxe.com) 
• Sunrise Over Los Angeles —TeknoAXE (teknoaxe.com) 
• Chillaxing with the Saxing —TeknoAXE (teknoaxe.com) 
• Bed Soft Moo Ving —Big Fish, licensed to Coalition to Govern America, LLC via Music Radio Creative
• Waypoint H —TeknoAXE (teknoaxe.com) 



NEWS ITEMS OFF THE TOP
Gavin Newsom at Ash-Strewn Wildfire Site: 'The Debate Is Over Around Climate Change'
https://www.breitbart.com/politics/2020/09/11/gavin-newsom-at-ash-strewn-wildfire-site-the-debate-is-over-around-climate-change/

New cyberattacks targeting U.S. elections
https://blogs.microsoft.com/on-the-issues/2020/09/10/cyberattacks-us-elections-trump-biden/

Statement From Acting Secretary Chad Wolf On Microsoft's Election Initiative
https://www.dhs.gov/news/2020/09/10/statement-acting-secretary-chad-wolf-microsoft-s-election-initiative

Mueller investigators 'accidentally' wiped over a dozen phones before turning over to I.G.'s office
https://justthenews.com/accountability/mueller-investigators-accidentally-wiped-over-dozen-phones-turning-over-igs-office
Chelsea Clinton wants to erode her children's "white privilege"
https://i.rmbl.ws/s8/2/R/W/v/b/RWvbb.caa.1.mp4 
TECHNOCRACY
Level Up – Life In A Post Pandemic Video Game (link to page containing information, with video embedded)
https://wrenchinthegears.com/2020/08/20/level-up-life-in-a-post-pandemic-video-game/

Incite: Level Up: Life in a post-pandemic video game (direct link to the seminar)
https://www.youtube.com/watch?v=Qk5FNEfi9BU

ISIS Mass Beheading Video Took 6 Hours to Film and Multiple Takes
https://time.com/3624976/isis-beheading-technology-video-trac-quilliam/

Govern America | March 7, 2015 | One Trillion Sensors
https://governamerica.com/radio/radio-archives/18126-govern-america-march-7-2015-one-trillion-sensors

Human Capital Performance Bonds
https://www.frbsf.org/community-development/files/human-capital-performance-bonds.pdf

World Economic Forum's Techno-Totalitarian Roadmap
https://www.technocracy.news/world-economic-forums-techno-totalitarian-roadmap/

THIRD HOUR - GUEST

John Perazzo is the editor of DiscoverTheNetworks.org, an encyclopedic guide to the political left and a project of the David Horowitz Freedom Center. He is also a contributing writer to Front Page Magazine and the author of The New Shame of the Cities.
Black Lives Matter at Discover the Networks
https://www.discoverthenetworks.org/organizations/black-lives-matter-blm

Black Lives Matter: Marxist Hate Dressed Up As Racial Justice
https://www.frontpagemag.com/fpm/2020/09/blm-pamphlet-john-perazzo/
http://archive.vn/AfM7j

Black Lives Matter: "What We Believe"
https://blacklivesmatter.com/what-we-believe/
http://archive.vn/wvh3F

Black Lives Matter Founder, Patrisse Cullors, Admits She is a "Trained Marxist"
https://twitter.com/RitaPanahi/status/1273739801464725504
https://youtu.be/kCghDx5qN4s?t=372
https://www.youtube.com/watch?v=E8V7xfdDI-Q
https://www.youtube.com/watch?v=Pyhy4IvkENg

Black Lives Matter co-founder describes herself as 'trained Marxist'
https://nypost.com/2020/06/25/blm-co-founder-describes-herself-as-trained-marxist/
http://archive.vn/dnfXu

'We are trained Marxists': Black Lives Matter co-founder featured in GOP ad
https://www.washingtontimes.com/news/2020/jun/25/patrisse-cullors-black-lives-matter-co-founder-fea/
http://archive.vn/Ul2YD
RELEVANT CHAT ROOM LINKS
Ammon Bundy Comes Out in Support of BLM, Calls to Defund the Police
https://www.nationalreview.com/news/ammon-bundy-comes-out-in-support-of-blm-calls-to-defund-the-police/
The Full List – Here Are The 269 Companies Who Are Supporting BLM & Antifa Riots
https://conservativeus.com/the-full-list-here-are-the-269-companies-who-are-supporting-blm-antifa-riots/
Here's A List Of Corporations Funding The 'Defund The Police' Movement
https://dailycaller.com/2020/08/17/list-corporate-donations-defund-police-movement-black-lives-matter/
Retired NYPD Commissioner Bernard Kerik warns public Black Lives Matter fundraising is run by a terrorist
https://www.kusi.com/retired-nypd-commissioner-bernard-kerik-warns-public-black-lives-matter-fundraising-is-run-by-a-terrorist/
Black Lives Matter isn't a benign group
https://www.chinookobserver.com/opinion/letters/letter-black-lives-matter-isnt-a-benign-group/article_539c37c2-d90a-11ea-a6b1-bf005d47ce0e.html