Details

Category: Radio Archives
Published on Saturday, 02 May 2020 23:02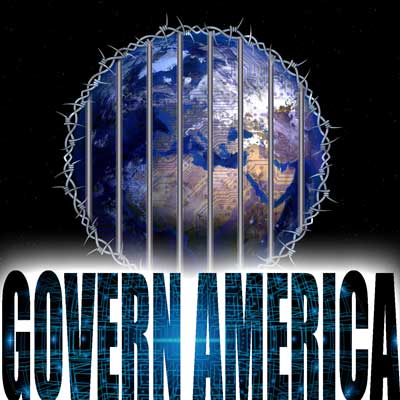 Hosts: Darren Weeks, Vicky Davis
Vicky's Websites: thetechnocratictyranny.com, channelingreality.com
Protests sweep the land as Americans grow weary of house arrest and government destruction of the economy. Trump administration pushes mass vaccine agenda with Operation Warp Speed. Microsoft patented a cryptocurrency system that illustrates the lengths technocrats will go to in order to control people. World Economic Forum explores digital currencies to replace the U.S. dollar as the world's reserve currency. Globalists at Carnegie Endowment try to understand the rise of populist nationalism and what it means for the future of their world government agenda, and more.
DIRECT DOWNLOAD LINK
(To download, right-click, choose "save file as" or "save target as")
Or use the embedded player below to listen.

Show Notes

Note: Original links may degrade over time. May include items we didn't get to during the show.

CREDITS
Imaging EFX by kennysvoice, luffy, frankum, InspectorJ, burninvernon, cormi, Udopohlmann, dkmedic, guitarguy1985, blupon73, qubodup, hello_flowers, vlammenos, 2school4kool, Dragout, and jmayoff via freesound.org. Licenced Under CC-BY 3.0
Govern America jingle and other imaging by Music Radio Creative.
PRE-SHOW LIVE STREAMED & SHOW MUSIC:
• Drifting Away from the World —TeknoAXE (teknoaxe.com)
• Break in the Clouds —TeknoAXE (teknoaxe.com)
• Stepping Along the Sky Redux —TeknoAXE (teknoaxe.com)
• "Blinking Lights" Govern America Jingle —Music Radio Creative
• Open Music —TeknoAXE (teknoaxe.com)
• Serene Acoustic Vibes —TeknoAXE (teknoaxe.com)
• Trench Coats and Sawed Off Shotguns —TeknoAXE (teknoaxe.com)
• Party Divided —StatusQ (freepd.com)
• Playing It Cool —TeknoAXE (teknoaxe.com)
• Intrusion —Kevin MacLeod (incompetech.com)
• Victory En Route —TeknoAXE ( teknoaxe.com)
• Sunrise Over Los Angeles —TeknoAXE ( teknoaxe.com)
• Chillaxing with the Saxing —TeknoAXE ( teknoaxe.com)
• Bed Soft Moo Ving —Big Fish, licensed to Coalition to Govern America, LLC via Music Radio Creative
GLOBALISM
Carnegie Endowment for International Peace Panel Discussion on the Rise of Populist Nationalism
https://www.c-span.org/video/?469495-1/age-iron

WO2020060606 - CRYPTOCURRENCY SYSTEM USING BODY ACTIVITY DATA
https://patentscope.wipo.int/search/en/detail.jsf?docId=WO2020060606&tab=PCTBIBLIO
https://patentscope.wipo.int/search/en/detail.jsf?docId=WO2020060606&tab=PCTDESCRIPTION

World Economic Forum session on Creating a Trusted Global Currency
https://www.youtube.com/watch?v=kNQG5zMjcvQ

A Fundamental Reshaping of Finance
https://www.blackrock.com/corporate/investor-relations/larry-fink-ceo-letter
COVID CHAOS
Govern America coverage of Michigan #Revolution2 Protest, April 30, 2020
https://www.periscope.tv/w/1BdGYQQDDgoGX
https://twitter.com/GovernAmerica/status/1255849280201297920

Govern America on Periscope
https://www.periscope.tv/GovernAmerica

'Operation Warp Speed': Manhattan Project-Style Plan Sets 2020 Vaccine Deadline
https://www.westernjournal.com/operation-warp-speed-manhattan-project-style-plan-sets-2020-vaccine-deadline/

"Large crowds gathered in Huntington Beach to protest the closure of Orange County beaches -- which Gov. Gavin Newsom closed because of large crowds at area beaches"
https://twitter.com/wadibig/status/1256316566477475841

Rachel Maddow Covers Michigan Protest (kicker story at end)
https://ok.ru/video/1350842190530

Michigan Rep. Jack O'Malley Commenting on Protest and Governor's Deteriorating Relationship with State Legislature
https://www.9and10news.com/2020/05/01/watch-qa-with-rep-jack-omalley/

Freedom Angels California Protest
https://www.facebook.com/FreedomAngelsFoundation/videos/159737422106222/

Naomi Soria on her persecution for organizing protests
https://www.youtube.com/watch?v=hs8u3ZIgX0w

Churches ordered 'no singing' during livestream services unless they're in homes, California county COVID-19 restrictions say
https://www.theblaze.com/news/churches-ordered-no-singing-during-livestream-services-unless-theyre-in-homes-california-county-covid-19-restrictions-say

"No Singing" Order in Mendocino County, California
https://www.mendocinocounty.org/home/showdocument?id=33692

Responsible Americans for the Constitution
https://americanrevolution2.org/

Open the States
https://www.openthestates.com/