Details

Category: Vicky Davis
Published on Tuesday, 05 September 2017 00:01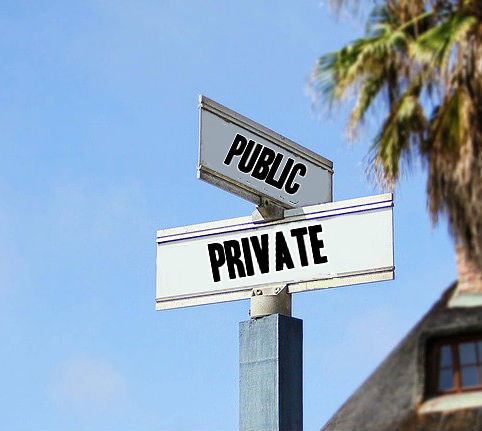 Vicky Davis
September 3, 2017
I voted for Donald Trump but have been ambivalent about him since he appointed Chairman Chao to be the Secretary of Transportation.

"Be extremely subtle, even to the point of formlessness. Be extremely mysterious, even to the point of soundlessness. Thereby you can be the director of the opponent's fate." ~ Sun Tzu

This Reuter's article just tipped the balance. I can no longer support Donald Trump and his administration as long Chairman Chao is in his Administration. As you are reading this (I hope you do), remember that she's married to Mitch McConnell, a swamp creature in the senate.
White House wants to help states, cities offload infrastructure

WASHINGTON (Reuters) – U.S. President Donald Trump's administration told state and local officials on Wednesday that it will use its infrastructure plan to create incentives for the private sector to finance or take over public entities like bridges, tunnels and highways.

Transportation Secretary Elaine Chao and White House budget director Mick Mulvaney told about 150 transportation officials at the White House the administration wants the private sector to play a bigger role in managing and financing public infrastructure.

Mulvaney said the administration wants to give states and cities "incentives to move stuff you might own off of your books and into the private sector."

In all of my years of research, I've spent more time on our transportation systems than any other single subject. I found that the concept of the police state surveillance and control systems originated in Germany and became a European Union project (EUREKA) being carried out by a consortium of companies – in conjunction with projects on robotics being carried out in Japan. It was brought to the United States in 1990 when the "new" U.S. Transportation System was announced by George H.W. Bush and Samuel Skinner, then U.S. Secretary of Transportation.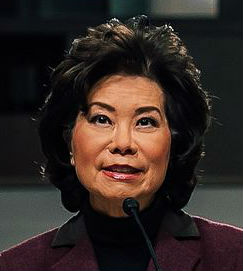 In all of my years of research, I've spent more time on our transportation systems than any other single subject. I found that the concept of the police state surveillance and control systems originated in Germany and became a European Union project (EUREKA) being carried out by a consortium of companies – in conjunction with projects on robotics being carried out in Japan. It was brought to the United States in 1990 when the "new" U.S. Transportation System was announced by George H.W. Bush and Samuel Skinner, then U.S. Secretary of Transportation.

I'm not going to repeat the whole story here. I'll give you the links so that you can read about the Transportation System later. For now, I just want to remind you that our tax dollars built the highway system and the only reason they are saying that it must be privatized is because of the cost. The BIG LIE is that it isn't the cost of the highways and bridges…. it's the cost of the police state technology systems that can't be afforded which is why they are seeking private investment – and specifically FOREIGN DIRECT INVESTMENT from COMMUNIST CHINA. Why do I say that? Hutchison-Whampoa port systems. Hutchison Whampoa is a front for the COMMUNIST CHINESE MILITARY. Research: Hutchison-Whampoa, Hutchison Port Holdings, Global Crossing, Li-Ka Shing.

The idea is to control movement. If all of our highway infrastructure is privately owned, the cost of travelling will keep you in place. If you do manage to be able to travel, the police state surveillance technology will record every move you make. That's not freedom. That's tyranny.
• Chairman Chao for Transportation Secretary? Say it ain't so….
I found three articles that I missed when I was putting the articles together on Elaine Chao.

January 11, 2001 – U.S. Department of Justice: LippoBank, James Riady, John Huang – Violating Federal Election law

January 17, 2001 – Chao Has Biz Ties to Lippo

November 29, 2016 – Trump Shocker! Who is Elaine Chao?
• A World Gone Mad – Racing to Ruin
• How U.S. Territory Became a Land Bridge Between Two Bodies of Water
Debbie Niwa's Research on the NAFTA Superhighway
• NAFTA Superhighway Memory Hole
• NAFTA Highway – History in Bulletins
• Carving a Path to [North American] Regional Governance
Vicky's Early Research on NAFTA Superhighway
• Legislative History – Intermodal Surface Transportation Efficiency Act of 1991
• Intelligent Transportation Systems
• Technology – Defense Contractors and Surveillance
• U.S. Disarmament – Defense Industry Conversion
Fusion Centers

The fusion center concept isn't difficult to figure out when you consider that the idea was allegedly to protect critical infrastructure but most of our critical infrastructure – electricity for sure, but also water and waste water, banking and finance, gas and oil production, airlines and trucking was privately owned (i.e. non-government). Government buildings, emergency services, roads, highways, ports were for the most part publicly owned. So follow the logic… a government building is blown up in Oklahoma so the response is for government to build a "security" system of protections by sector including cyber security as the blanket protection for all. The fusion center is the command and control center for all sectors for critical infrastructure. Doesn't make sense does it? Unless your objective is communist in nature – transformation of our system of government into a communist system – specifically the communist Chinese system of state-capitalism meaning dual-ownership through public-private partnerships. When you understand that, then you understand the significance of the Department of Homescam Security and their attempt to declare our election systems as critical infrastructure.

But even that isn't the full story. The concept for the fusion center goes back to the Reagan Administration. In 1982, Ronald Reagan signed Executive Order 12382 creating the National Security Telecommunications Committee (NSTAC) comprised of corporate leaders to advise the president on national security and emergency preparedness communications policy. In other words, continuity of government.

The NSTAC committee helped to establish the National Communications Center and made it responsible for the telecommunications ISAC – Information Sharing and Analysis Center. The ISAC concept for telecommunications is the hub of the fusion center system. Read more HERE.
Critical Infrastructure Sectors

| | |
| --- | --- |
| Information & Communications | Transportation |
| Electric Power Systems | Water Supply Systems |
| Gas & Oil Prod, Stor, & Transport | Emergency Services |
| Banking and Finance | Government Services |
• Fusion Centers
• Critical Infrastructure – Control Center
• Critical Infrastructure Assurance Office (CIAO Baby!)
• Conflicting Goals and Objectives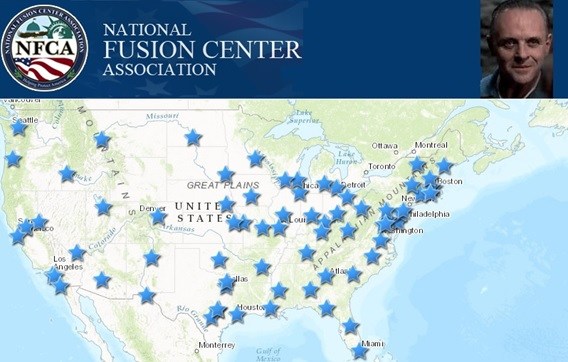 Looks like a Chinese character font to me
Intermodal Commerce Zone • Inland Port • Workforce Development Zone

Fusion Center


In the spring of 2010, I became aware of something anomalous happening in Boise, the capital city of Idaho. There was an article in the Idaho Statesman saying that a 23-person delegation from China was coming to Meridian to look at The CORE, a local health care, technology and industry-related growth corridor.
A 23-person delegation from Guangzhou, the capital Guangdong Provence in southern China, will arrive Wednesday on a three-day visit.

Plans for the trip have been in the making since Meridian Mayor Tammy de Weerd (Dutch name isn't it?) traveled to China in September 2009, said de Weerd executive assistant Robert Simison.

Delegation members are expected to tour The Core, a local health care, technology and industry-related growth corridor, the new Idaho State-Meridian Health Science Center. St. Luke's Meridian Medical Center, Boise State University and area high schools.

St Luke's, the anchor that is suppose to help lure industry-related businesses to the proposed health care corridor, will host a Saturday breakfast for the delegation at 8:15 a.m. at the hospital, followed by a tour of the facility, said spokesman Ken Dey.

The delegation will also meet with representatives from the Idaho Department of Commerce and Lt. Gov. Brad Little, Simison said.

Helping the city organize trip has been Ping He, a California-based businesswoman with ties to Idaho business owners with operations in China. She said the trip is designed to show the delegation "all of the resources we have here, and the first-time investment possibilities.

"Chinese businessmen investing $1 million for five years in American ventures are eligible to obtain visas granting them permanent status in the United States, under rules established by the United States Customs and Immigration Service.


I made a quick phone call and spoke with Brenda Sherwood, the Economic Development Specialist for Meridian. She told me that it was an intermodal commerce zone and that they might be seeking to have the area designated as a Foreign Trade Zone. The CORE was an EB-5 Regional Center meaning that they sought foreign direct investment which accounted for the 23-person delegation from China. They were offering citizenship and investment opportunity in exchange for money to build out St. Luke's health care business by adding to the health care supply chain. (See Michael Porter, Harvard Professor, Competitive Advantage and Cluster Studies – central planning for a communist economy).

In 2006, while looking at the list of bills that were being considered by the Idaho legislature, I saw one that caught my attention. It was titled, County-Based Intermodal Commerce Authority. I didn't know what they were doing but I did know that it wasn't good because it was done by stealth over a three year period – 2004, 2005 and 2006.

I wrote a lot of articles about it (below) because I was trying to piece together the puzzle of what they were doing because it was obviously a multi-year, multi-tiered strategy of something. It turns out that what The Core is – is an inland port authority where a fusion center doubling as port security would be located. It was initiated by a woman of Dutch heritage connected to the communist Chinese through a Chinese businesswoman in California and they were trying to bring in a very large communist Chinese state-owned business called Sinomach.

As luck would have it, I'd already researched the formation of the Treasure Valley Partnership of Mayors. What I missed at the time, was that the first step in the establishment of a metropolitan area was the partnership agreement signed by the County Sheriffs for cross-jurisdictional law enforcement and emergency services which becomes important for the creation of the fusion center. But I got enough out of it that when I saw that Chamber of Commerce formed the Boise Valley Economic Partnership that was connected to the CORE and included the Treasure Valley Partnership, I could see that we had a cancerous cluster of fascism being built. This is where an understanding of the central planning concepts of Mr. Cluster Ph***, Michael Porter comes into play.

The following picture was extracted from the Boise Valley Economic Partnership's brochure touting their Competitive Advantage.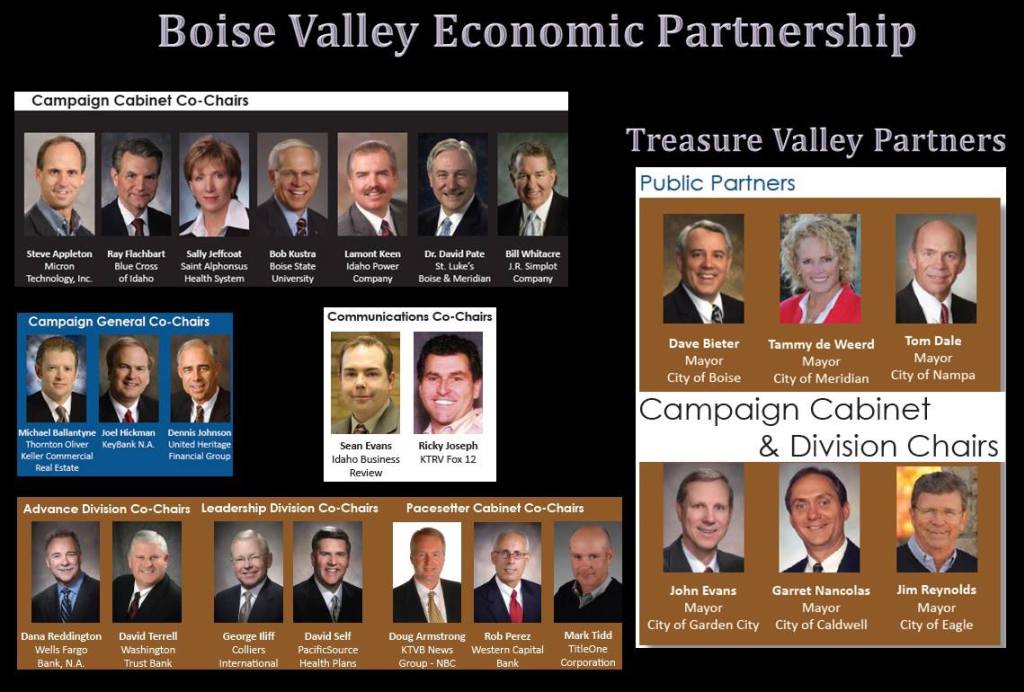 Now factor in the public-private partnerships for surveillance and control systems for national security. What a joke that is when we have foreign businesses with defense contracts, foreign workers in jobs that require national security clearances and a system of public-private partnerships that are structured for corruption and collusion. I've worked my way up from the corrupt bottom at the local level to the theoretical perfect world at the top. If the leaders of this country think they've secured our country with these networked systems with everything and anybody involved including their idiot cousin Earl, they are living in the land of the sugar plum fairies but we are the ones paying for their delusions.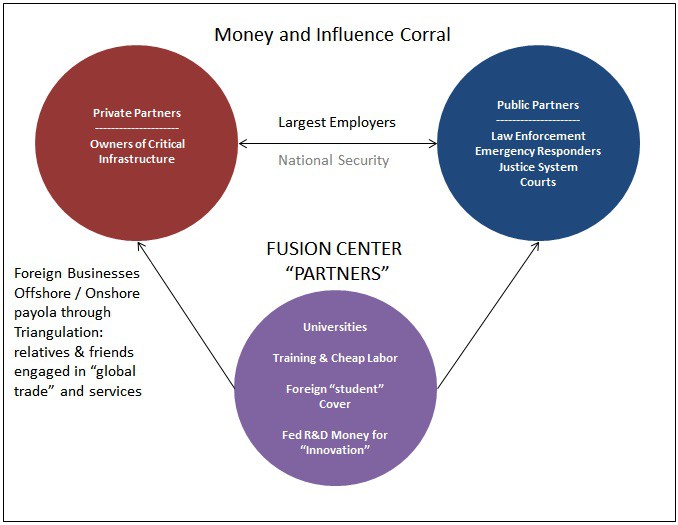 STASI of Idaho
National Governor's Association
In their January 2005 survey, the National Governors Association Center for Best Practices revealed that states ranked the development of state intelligence fusion centers as one of their highest priorities.
Source: Vision 2015 – Page 11

By Executive Order (2005-01), Idaho Governor Dirk Kempthorne created the Idaho Criminal Justice Commission.

On June 23, 2005, the first members of the ICJC – steering committee for the Idaho STASI project were announced.

THE OFFICE OF THE GOVERNOR
EXECUTIVE DEPARTMENT
STATE OF IDAHO
BOISE
EXECUTIVE ORDER NO. 2005-01
ESTABLISHING A CRIMINAL JUSTICE COMMISSION FOR OVERSIGHT OF THE STATE'S CRIMINAL JUSTICE SYSTEM

WHEREAS, it is in the best interests of the citizens of the State of Idaho that government promote efficiency and effectiveness of the criminal justice system and, where possible, encourage dialogue among the respective branches of government to achieve this effectiveness and efficiency; and

WHEREAS, combating crime and protecting citizens from criminal depredation is of vital concern to government; and

WHEREAS, communication and cooperation among the various facets of the community of criminal justice professionals is of utmost importance in promoting efficiency and effectiveness; and

WHEREAS, providing policy makers and criminal justice decision makers with accurate information results in better decisions which improves public safety and results in the efficient use of public resources; and

WHEREAS, the continued growth of the State's adult incarcerated offender population necessitates more in depth analysis of the State's criminal justice system; and

WHEREAS, gang violence and the manufacturing, trafficking and abuse of methamphetamine are critical issues that plague communities across the state and are a drain on state and local resources; and

WHEREAS, Idaho's current criminal justice efforts and initiatives require clear strategic planning and increased coordination;

NOW, THEREFORE, I, DIRK KEMPTHORNE, Governor of the State of Idaho, by the authority vested in me under the Constitution and laws of the State of Idaho, do hereby establish the Idaho Criminal Justice Commission.
You can read the purpose of the commission but I want to highlight two of them:

d. Promote communication among criminal justice professionals and the respective branches of state government to improve professionalism, create partnerships, and to improve cooperation and
coordination at all levels of the criminal justice system.

g. Partner with Idaho's college and universities to conduct research, planning and analysis activities, including studies that analyze a variety of crime trends and criminal justice issues

[Side note: anecdotal – I remember in ~ 1996-1997, they were having a terrible problem with gangs in Salt Lake City. There were Asian gangs in West Valley (?) a community near downtown SLC. At the time, I thought that was bizarre. Then the gangs started in Boise – I'm not sure when but around the year ~ 1999-2000. Gang activity started in Idaho Falls around 2002-2003. I recall seeing MS13 spray paint on walls and I had an email war with a reporter at the Post Register. They were covering an event and parade for low-riders as if it was a great thing… celebrating hispanic low-riding culture. It makes me laugh now… I asked the reporter where she thought the low-riders got the money for those cars? Picking spuds? I heard that MS 13 was a gang created by and sponsored by the CIA. In the context of a dialectic for creating a justification for the development of a police state surveillance and data collection system centered at a fusion center, it makes perfect sense that the CIA would run gangs because it's the CIA that is behind the networked intelligence systems. ]

When you read the Executive Order, read it as the Directive – a mission statement to initiate an IT project to collectivize data collection and information sharing on the citizens of Idaho.
Executive Order 2005-06 – Replaced EO 2005-01 – It expanded the commission and made other administrative changes like composition, terms appointments.

Executive Order 2005-17 – Replaced EO 2005-06 – Notice the references to analysis, data for better decisions, legislation to improved efficiency and effectiveness.

The Idaho Supreme Court was aware of and apparently was in on the creation of the IDAHO STASI.

Department of Justice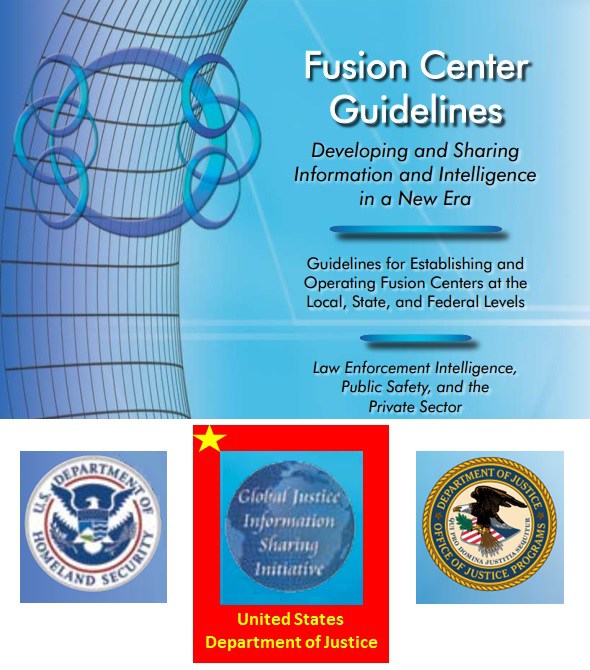 Credit for the guidelines followed by the disclaimer:
We're guilty but we know nothing about it.
---
This document was prepared under the leadership, guidance, and funding of the Bureau of Justice Assistance (BJA), Office of Justice Programs, U.S. Department of Justice, in collaboration with the U.S. Department of Justice's Global Justice Information Sharing Initiativeand the U.S. Department of Homeland Security. The opinions, findings, and conclusions or recommendations expressed in this document are those of the authors and do not necessarily represent the official position or policies of the U.S. Department of Justice or the U.S. Department of Homeland Security.
---
Justice Department Sharing Initiative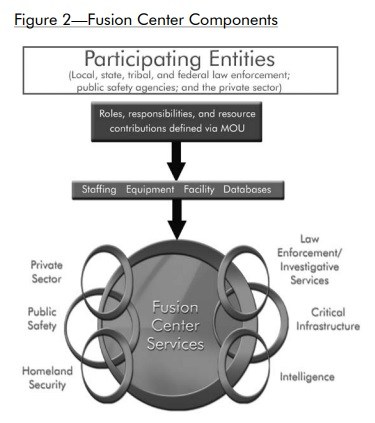 Data fusion involves the exchange of information from different sources—including law enforcement, public safety, and the private sector—and, with analysis, can result in meaningful and actionable intelligence and information. The fusion process turns this information and intelligence into actionable knowledge. Fusion also allows for relentless reevaluation of existing data in context with new data in order to provide constant updates. The public safety and private sector components are integral in the fusion process because they provide fusion centers with crime-related information, including risk and threat assessments, and subject-matter experts who can aid in threat identification.
An Overview of the United States Intelligence Community
A Framework for Justice Information Sharing – Service Oriented Architecture

by the Global Infrastructure / Standards Working Group

Global Justice Information Sharing is "A Group of Groups" representing more than 30 independent organizations, spanning the spectrum of law enforcement, judicial, correctional, and related bodies.

Federal Support for and Involvement in State and Local Fusion Centers Homescam: Unveiled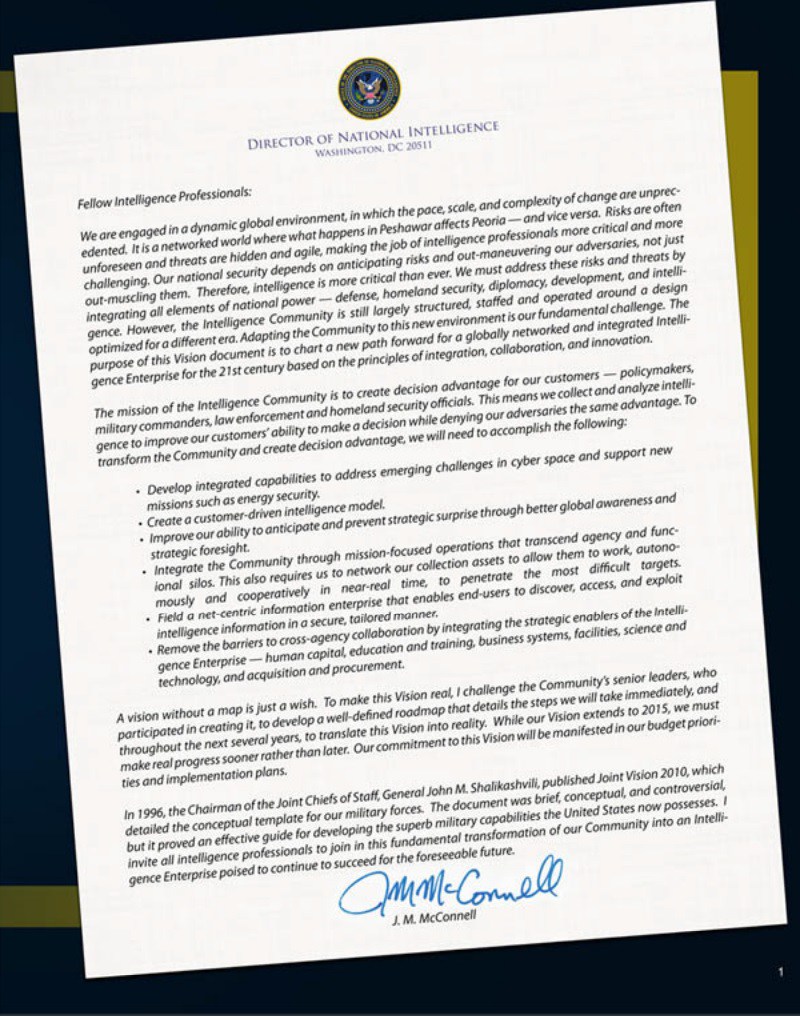 Global Intelligence Information Sharing

Having established the concept of government as the provider of umbrella security combined with collapse of the Soviet Union and the Nunn-Lugar Cooperative Threat Reduction initiative to retrieve, control and transport Soviet nuclear and biological weapons – necessitating a "global" transport tracking system with chain of custody capabilities, the military then gets into the act of fusion center capabilities at transportation hubs. Our system of highways was built as a function of defense (originally named the National Highway Defense System).

The military contracts out their IT systems. Both Booz Allen and Lockheed had a hand in designing the port and inland transportation hub systems. Others may have been involved, but those two I know for sure.

NTS – 1995: The State of the Art Port of Entry Workshop Lockheed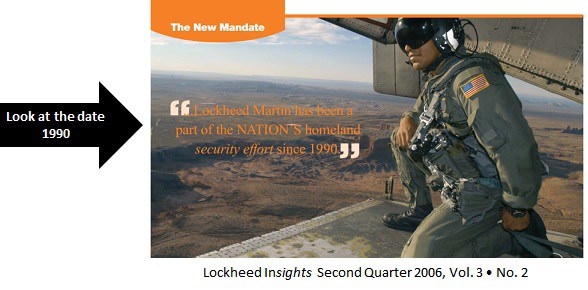 Same System Displaying a Different GIS View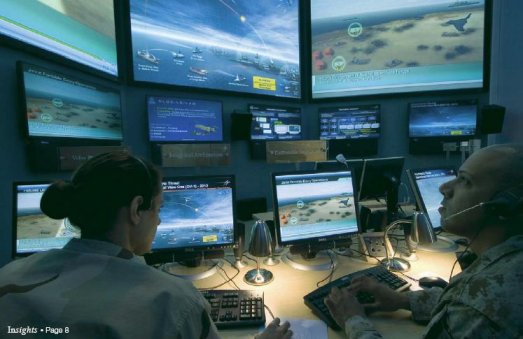 Lockheed Insights – Military Data Fusion Center

Civilian Data Fusion Center

Same System – Different View Using the GIS System Capabilities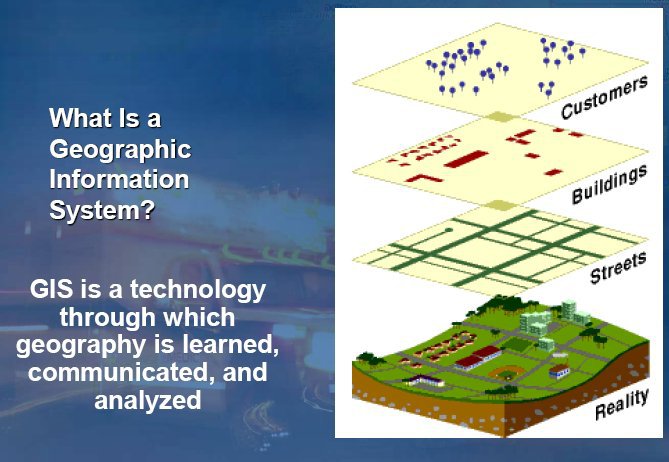 If that hissing snake, Chairman Chao succeeds in getting our public officials to privatize our highways, we will become prisoners and slaves to the fascist management structure that has been set up in the name of security. If you read the articles I did on Chao, you'll see that she was involved in this scheme from the beginning and has reached the pinnacle of power in terms of making it happen – the Secretary of Transportation.

Vicky Davis is a systems analyst turned Internet researcher and writer. She received her training in computer programming in Santa Clara, California in mid 1970s. She worked primarily, but not entirely, on IBM mainframe systems for large corporations and government entities. As an Internet Researcher, she continues to apply her Systems Analyst skills focusing her research on the revolution in government from the systems perspective. Her websites are TheTechnocraticTyranny.com and ChannelingReality.com and is a contributor to TVOInews.com, where this article first appeared. In addition to her research and writing, Vicky co-hosts Govern America, a three hour talk radio show, on Saturdays at 11AM Eastern / 8AM Pacific time. Free live streams here.